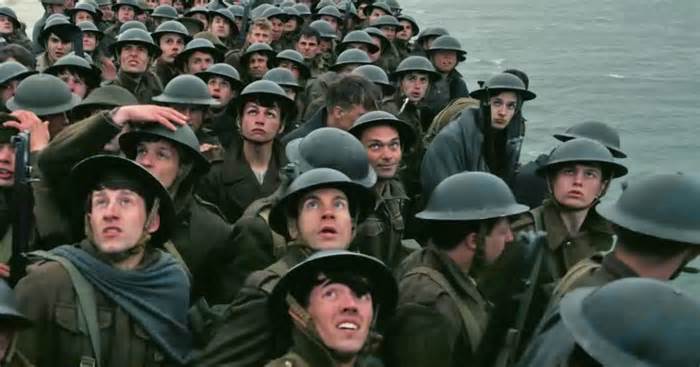 "Dunkirk" is the new movie from writer/director Christopher Nolan, who doesn't always tell his stories in a linear fashion. In "Memento," a story about a guy who can't remember anything that happened before today, he told it backwards. In "Inception," he monkeyed with both time and space in a story that literally overlapped itself. In "Dunkirk," he's done it again, but more about that in a moment. First, you need the setup, which tells a story most Americans don't know, but is baked into the very being of the English because it is as important part of their history as Pearl Harbor is of ours.
In the spring of 1940, before the US got into World War II, Hitler's forces had surrounded more than 400,000 English, French, Belgian, and Canadian troops in the port city of Dunkirk, France. The soldiers were trapped on the beach. They could see Britain a couple of dozen miles across the English Channel, but the Royal Navy couldn't get its big ships close enough to pick them up. So, Winston Churchill, then the British Prime Minister for only a couple of weeks, called up the private owners of smaller boats to try to cross the channel and help with the rescue. Meanwhile, German planes were dropping bombs and strafing the soldiers with machine gun fire from the sky.
Nolan includes some of that basic information at the beginning, but not much, and as the story goes along, he doesn't bother with more exposition via the typical voiceover narration. He simply tells the story and expects you to keep up.
But there's one more thing you need to know before seeing "Dunkirk," and it goes back to Nolan's non-linear storytelling style. The movie is told from three points of view: 1) the trapped men on the beach waiting to be rescued, which takes place over a week; 2) the small boat owners going to Dunkirk, which takes place over a day; 3) a British spitfire pilot trying to shoot down the German dive bombers, which takes place over an hour. The three stories and timelines overlap.
The story is very compelling. The cinematography puts you in the middle of the action, which never stops, and includes the third-most intense war scenes I've seen on screen (after "Saving Private Ryan" and "Hacksaw Ridge"). Watching it, I thought of the men of my father's generation who served in World War II but never shared stories about it because the memories were too agonizing. Hans Zimmer's score keeps the mood tense throughout, and at an hour and forty-five minutes, it's just the right length.
The best-known cast members include Kenneth Branagh, Mark Rylance (who might win another Oscar for his role as a small boat owner), Tom Hardy, and former One Direction member Harry Styles. Although he's fine in his role, I wonder about the casting of Styles. Did Nolan and his team think it would bring teen girls into the theater? I don't think the girls are telling each other about this movie on Snapchat Stories.
If "Dunkirk" has any weak spots, it's that some of the actors playing the soldiers are hard to tell apart. Perhaps that's simply indicative of how the military works — you're never an individual, always part of a larger group that lives and works in unison (thus the term "uniform"). It's also a little difficult to understand some of the British accents, but there's so little dialogue in "Dunkirk" that you shouldn't let that bother you.
Nolan shot "Dunkirk" in 70mm, a format that makes the picture beautiful on a big screen. I saw it in Imax, a format that allows the viewer to become enveloped in the dread those men must have felt on the beach, on the water, and in the air. This is a movie best seen in a big theater, not streaming a year from now on your phone.
Three months ago, an indie movie called "Their Finest" (which I gave a 7.5) had the Dunkirk rescue as one of its subplots. That was the first time I'd heard the story, and I'm glad Nolan has gone on to enlarge it so well, in every way.
I give "Dunkirk" an 8.5 out of 10.