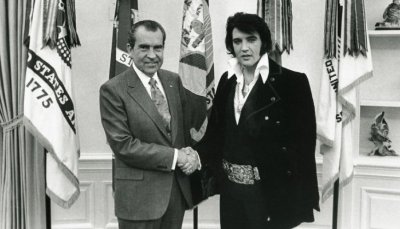 "Elvis and Nixon" is based on the photo above, the most-requested in the history of the National Archives.
It was taken on December 21, 1970, when Elvis Presley showed up at the White House unannounced and asked to meet with President Richard Nixon. By way of introduction, he handed the guards — who at first thought he was an Elvis impersonator — a letter he'd written on a cross-country flight, in which he complained about what he considered the moral decline of the country, war protesters, hippies, and the Black Panthers:
I have done an in-depth study of drug abuse and communist brainwashing techniques and I am right in the middle of the whole thing where I can and will do the most good. I am glad to help just so long as it is kept very private.
Elvis wanted to be an undercover agent-at-large for the federal government, complete with a badge, to infiltrate these groups he considered subversive. When asked how one of the most famous people in the world could go undercover, he explained that he had plenty of experience in costumes and disguises because he'd made a lot of movies.
It turns out Presley was much more conservative than his rock-and-roller image might have implied, and his political views aligned more with Nixon's than with those who opposed him. This was a guy who became a superstar in the fifties and early sixties whose fame was beginning to wane and he blamed it on the generation that followed him. There's also the lovely irony of a guy who acted like he was appalled by drug abuse, but would die seven years later from his overuse of prescription drugs.
In the movie, Michael Shannon plays Elvis and Kevin Spacey is Nixon and, to their credit, they don't do cheap imitations of their subjects. There have been thousands of Elvis impersonators who exaggerate his voice and physical movements, but Shannon doesn't. Even though this is a comedy, he plays Elvis sincerely. Spacey does a pretty good Nixon voice but doesn't sound like every impressionist who's done him — or rather, an imitation of David Frye's gold standard impression of Tricky Dick. It's a little odd seeing Spacey playing a president other than Francis Underwood ("House Of Cards"), but he pulls it off and, as with Shannon, it doesn't take long to suspend disbelief and buy into both of these guys as the men they're portraying.
As I said, this is a comedy, but it plays for laughs through the situation, not a series of jokes. The cast includes Colin Hanks, Johnny Knoxville, and Tate Donovan — not to mention the velvet bellbottoms and enormous gold belt buckle Elvis wore on that historic day.
I really enjoyed "Elvis and Nixon," so I give it an 8 out of 10.
It would make a good double bill with "Dick," the 1999 Andrew Fleming comedy starring Kirsten Dunst and Michelle Williams as teenage girls hired to walk Nixon's dog at the time of Watergate. Like that administration, it's a bold-faced farce. "Dick" works due to the earnest performances of Dunst and Williams, plus a cast that includes Dan Hedaya as Nixon, Saul Rubinek as Henry Kissinger, Harry Shearer as G. Gordon Liddy, Ana Gasteyer as Rosemary Woods, Jim Breuer as John Dean, and Will Ferrell as Bob Woodward — plus Teri Garr, Dave Foley, and Ryan Reynolds.