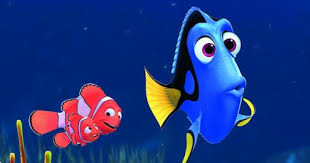 As my colleague Colin Jeffrey predicted on Friday, Pixar's "Finding Dory" broke the record for biggest opening weekend for an animated film, bringing in $136.2 million. Does that mean it's a great movie? Nope, just a very good one.
The sequel to "Finding Nemo" brings back Ellen DeGeneres and Albert Brooks as Dory and Marlin, who are off on another cross-ocean adventure, this time trying to find Dory's parents. The trip, hampered by Dory's short-term memory problem, drags a little at the beginning, but once things get underway, they move beautifully. I mean that in both tempo and visual terms. Pixar made waves (ahem!) with the animated processes it created for "Finding Nemo," and has only improved on them thirteen years later for "Finding Dory."
Aside from DeGeneres and Brooks, the voice cast includes Ed O'Neill as the movie's scene-stealing octopus, Diane Keaton and Eugene Levy as Dory's parents, plus Ty Burrell, Idris Elba, Kate McKinnon, Bill Hader, Sigourney Weaver, Stephen Root, Allison Janney, Brad Garrett, Willem Defoe, Austin Pendleton, and (of course) John Ratzenberger. That raises the question I've pondered many times before while watching an animated movie — why not hire some of the very talented not-so-well-known voice actors in Hollywood? They're the ones who need the work, in many cases to keep their SAG/AFTRA insurance alive, and they can do the minor characters at least as well as some of those better-known stars. In fact, they can probably do the actual voices of those stars, if you need them.
The one thing that can't be replaced in "Finding Dory," is writer/director Andrew Stanton, who has proven over the years that he is Pixar's most valuable player — he wrote "Toy Story" (and its sequels), "A Bug's Life," "Monsters Inc," "Finding Nemo," and "Wall-E." His script for "Dory" isn't as good as those, but it's fine, although I do have an issue with the ending, in which one of the characters — a creature from the sea — drives a truck. That stretched the plot logic a little too far for me.
I give "Finding Dory" a 7.5 out of 10. Take your kids, and be sure to stay all the way through the credits to the very end for some funny stuff I will not spoil.
Accompanying "Finding Dory" is one of Pixar's best shorts in a long time, "Piper." It's the story of a baby sandpiper learning how to come out of its nest and find food in the waves along a beach. The story's nice, but the technology blew me away — the best water and sea foam animation I've ever seen.