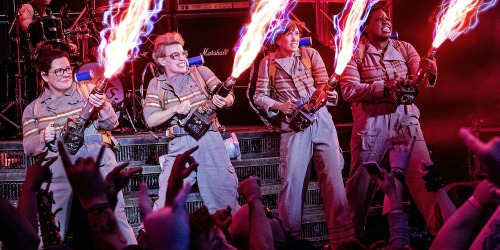 They did it.
The remake that so many people were so worried about turns out to be a pretty good movie. Any time you take on a classic, you run the risk of falling on your face, but director Paul Feig and his all-female Ghostbusters — Kristen Wiig, Melissa McCarthy, Kate McKinnon, and Leslie Jones — can stand up proudly and say they did it right.
The new "Ghostbusters" isn't quite as snarky as the original, but it has plenty of wacky science, physical and verbal comedy, and special effects that weren't possible in 1984. It also has cameos by all the major actors from the original (Murray, Aykroyd, Hudson, Potts, Weaver). By their appearance, and Aykroyd's executive producer credit, it's clear they approve of what Feig has pulled off. The two missing from the original are Rick Moranis (who has either retired completely from acting or taken a job with Gozer The Traveler) and the late Harold Ramis, who gets a nice nod you should keep your eyes peeled for early on (his son Danny gets a bit part, too).
My wife said she felt a tinge of pride seeing four strong actresses running away with the plot, and she's right. Wiig and McCarthy are solid as the leads, Leslie Jones manages to overcome her stereotypical loud-black-woman-from-the-streets part, and Kate McKinnon is quite funny as the Ghostbuster who invents all the weapons they'll need for their battles against the special effects and slime. I'm a McKinnon fan, but there are times she overdoes it a bit — or that may be me comparing her performance to the way Ramis underplayed Igon in the original.
The supporting cast includes Chris Hemsworth as the hunky-but-dumb secretary (a nice shot at all the movies with the airhead woman at the front desk), Andy Garcia as the mayor, Cecily Strong (overacting) as the mayor's assistant, Zach Woods (from HBO's "Silicon Valley") as the first character to encounter a ghost, Neil Casey as the villain who sets the plot in motion, plus Steve Higgins (from Jimmy Fallon's "Tonight Show"), Ed Begley Jr., and Matt Walsh.
At two hours, the new "Ghostbusters" is just a tad long, but you should stick around through all of the credits for the tag that sets up the inevitable sequel. I give it an 8.5 out of 10.