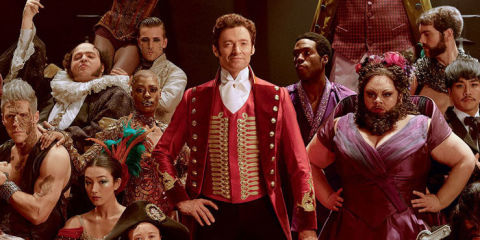 "The Greatest Showman" is a musical about PT Barnum gathering a group of unusual characters and acts to create what would come to be known as the first circus. It stars Hugh Jackman as Barnum, Michelle Williams as his wife, and Zac Efron as his business partner.
The acts include a bearded lady, a dwarf, Siamese twins, a brother-and-sister trapeze act, a tattooed man, and a giant. They are the kind of performers who would later populate sideshows at carnivals, but Barnum put them front and center to exploit the curiosity of average Americans in the mid-19th century.
Director Michael Gracey fills the screen with lots of spectacle, a love story, and nine original songs by Benj Pasek and Justin Paul ("La La Land," "Dear Evan Hansen," "A Christmas Story"). Unfortunately, although every tune in "The Greatest Showman" is delivered as a showstopper, none is particularly memorable. Instead, they're anachronistic with a too-contemporary feel — and there's one character introduced as a famous opera singer who then goes on to sing not one aria or anything else from that genre, instead doing modern show-tune-ish numbers that don't quite work.
As for Jackman, he's a dynamic presence on screen, a born ringmaster who can sing, dance, and act (my wife offers the female perspective: "There is nothing wrong with that man"), but watching him and the rest of the cast, I couldn't help but think the whole production would be better as a Broadway show than it is as a movie. The energy of the performances by Jackman and some of the rest of the cast — particularly Keala Settle as the bearded lady — doesn't translate as well through the camera as it would in a live theater setting. Ironically, there was a Broadway show called "Barnum" in the 1980s, starring Jim Dale and Michael Crawford, but "The Greatest Showman" isn't based on it.
There's also a question of timing. Jackman says that the project languished in development for seven years because studios were hesitant to take on an original musical. Perhaps "La La Land" changed their mind, but the fact is that during that delay, the circus Barnum started (which later included partners Bailey and the Ringling Brothers) was dying and finally closed forever earlier this year, mostly because it was no longer unique in a digital world where we have access on demand to any kind of entertainment we desire.
"The Greatest Showman" displays plenty of boisterous effort from everyone involved, but it just isn't enough. I give it a 5 out of 10.