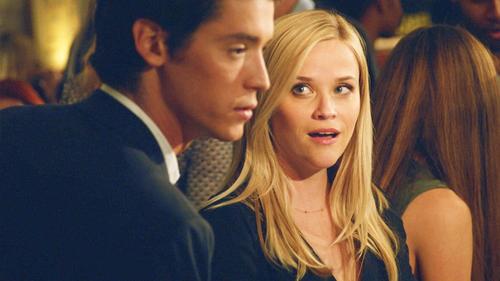 "Home Again" feels just like a lot of Nancy Meyers movies ("The Intern," "It's Complicated," "Something's Gotta Give"). That's because she produced it, and her daughter Hallie Meyers-Shyer wrote and directed it, fully inspired by her mother's formula: cast a likable well-known actress, put her in upper-class surroundings, and then get her involved in a possibly-romantic situation while she juggles her non-love-life.
This time around, it's Reese Witherspoon, who is too good for the role — but it could just have easily been Jennifer Aniston, Kate Hudson, Cameron Diaz, or Katherine Heigl. Reese is the mother of two daughters — the kind that only exist in Hollywood movies, with dialogue that's far too cute and smart for kids of their age. She lives in an absolutely beautiful house in Los Angeles that once belonged to her father, a John-Cassavettes-like movie director of some renown who married several women and bedded even more. Reese is the result of his marriage to Candice Bergen's character and, even though Dad died years ago, Mom is still around to look after the kids, as well as pop in at inappropriate times.
The other half of the story involves three young wannabe-filmmakers who are trying to get a script through the movie-making machinery of Hollywood. They meet her in a bar on the night she's celebrating her 40th birthday and, before long, we learn that the guys have no money and nowhere to stay, so naturally, Reese is cajoled into letting them live in her guest house.
This is the kind of Meyers world where allowing three twenty-something male strangers to move in while you have two girls under 11 years old in the house makes perfect sense. It's also a world where, when Reese makes breakfast for everyone, there are eggs and pancakes and muffins and bagels and a tray full of enough fruit to bankrupt a farmers market. You know, just like the meals that start your day.
There are also nauseating subplots involving:
Michael Sheen as Reese's ex who lives in New York, but you know is going to show up in LA to object to this unusual living arrangement;
Lake Bell as a stuffy client of Reese's struggling interior design business;
The playwriting debut of the older daughter, who just can't go on stage without one of the cute guys being there.
I admit that I'm not the target demo for movies like these (let's say it: "chick flick"), so I brought my wife to the screening for her reaction. Like me, she couldn't stand any of the characters, thought the three young actors playing the movie-making wannabes were terrible, and couldn't have cared less about anything that happened along the way. She even used the word "boring."
She also agreed with me that while Reese looks fantastic, she needs to do a better job picking her movie roles, leaving stuff like this to the second-tier female stars and finding something befitting her talents.
My wife and I both give "Home Again" a 4 out of 10 — and we're being generous.