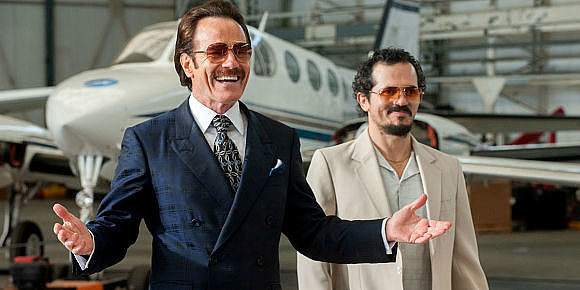 Bryan Cranston is on a remarkable run. After the finale of "Breaking Bad" in 2013, he went to Broadway and won a Tony in 2014 for playing LBJ in "All The Way" (which he reprised so brilliantly in the HBO version that he'll probably win an Emmy for it this fall, too). Then he was Oscar-nominated in 2015 for playing the title character in "Trumbo," and now he plays another real person in "The Infiltrator."
It's the story of Robert Mazur, an undercover federal officer who exposed money laundering by Pablo Escobar's Colombian cocaine operation in the mid-1980s, sent dozens of men to prison, and caused the world's 7th-largest bank to collapse. Cranston inhabits the multiple layers of the role in the same way he did Walter White, and he gets good support from a cast that includes John Leguizamo, Amy Ryan, Olympia Dukakis, Benjamin Bratt, and the stunning Diane Kruger.
Like "Donnie Brasco," "The Infiltrator" shows what it's like to be undercover, how you can never drop the act, the life-and-death situations Mazur found himself in, and the toll it takes on his wife and family.
I give "The Infiltrator" an 8 out of 10.