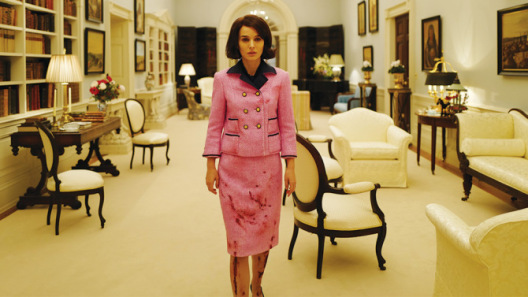 "Jackie" is the story of Jacqueline Kennedy on the day of the assassination of her husband, President John F. Kennedy, and the ten days that follow. It is framed by her conversation with Life magazine reporter Theodore White (Billy Crudup), in which she's determined to manage the image and legacy of JFK and their family — including the comparison of their life together to the Lerner and Loewe musical "Camelot."
Natalie Portman is perfect as Jackie. I didn't know Jackie had such a quiet, breathy voice (almost like Marilyn Monroe, ironically), but Portman has it down — particularly in flashback scenes such as the televised White House tour she did on Valentine's Day, 1962. Viewed by more than 80 million people across three networks, it was the first time most Americans saw the interior of that building, not to mention the First Lady as tour guide.
"Jackie" does a very good job showing what it's like to have your life ripped out from under you — not just the abruptness of having a loved one killed, but also being forced out of your home at the same time. The movie shows her dealing with the trauma, her children, the funeral, the public face, and the Johnsons, who were trying to both move in and help the country move on, without stepping on her toes too much.
Director Pablo Larrain combines archival footage with reenactments by a supporting cast that includes Greta Gerwig as Jackie's right-hand woman Nancy Tuckerman, John Hurt as the priest Jackie turns to for moral support, Caspar Phillipson as the latest JFK doppelganger, and Peter Sarsgaard as Bobby Kennedy (whose accent he gets wrong and can't sustain).
I don't know who the audience for "Jackie" is. Anyone under 60 isn't old enough to remember any of this and won't care about the history lesson. In fact, the only reason I recommend it at all is for Portman's performance, which will probably earn an Oscar nomination.
I give "Jackie" a 6.5 out of 10.