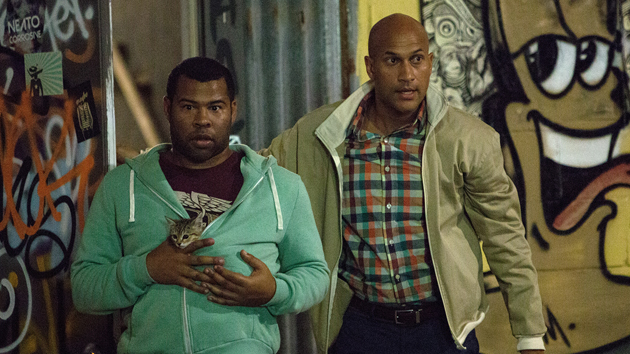 I was a fan of Key and Peele's Comedy Central show and was disappointed when it ended last year, but I'm happy to see them making a very positive first step onto the big screen with the action comedy "Keanu."
They play two regular guys (blerds = black + nerds) who get mistaken for The Allentown Brothers, gangbangers who killed a bunch of people in a drug warehouse takedown. The only survivor is a kitten that belongs to the drug lord. It runs away and ends up on the doorstep of Peele's apartment just as he's recovering from his girlfriend breaking up with him. He names the cat Keanu and becomes attached to it. Then one day he comes home and finds his apartment has been broken into, the furniture is tossed around, and Keanu is gone.
That leads them into adventures with the Blips, a gang made up of people thrown out of the Bloods and the Crips. Key and Peele aren't anywhere close to gangbangers, but they pretend they're the Allentown Brothers, and end up having to improvise their way through every situation where they find themselves way over their heads.
Though the kitten-based plot sounds ridiculous, it works because their chemistry is great, the dialogue is very funny, and they fully inhabit these characters. The supporting cast includes Will Forte, Method Man, Nia Long, Luis Guzman, and cameos by Anna Faris and George Michael. "Keanu" was directed by Peter Atencio, who did most of the episodes of their Comedy Central show, so he knows how to make Key and Peele's material work on screen.
"Keanu" is rated R for a reason. It's raunchy, like the best comedies of 2014 (Chris Rock's "Top Five") and 2015 (Amy Schumer's "Trainwreck"), but I laughed out loud several times, so I'm scoring it 8 out of 10.