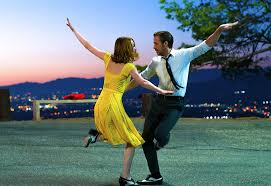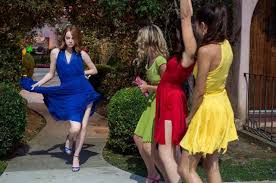 There's a scene early in "La La Land" where Emma Stone's character, Mia, is auditioning for a role in some TV show or movie. In close-up, Mia moves through a myriad of emotions before someone interrupts and the casting director dismisses her. The scene only takes a minute, but it's a stunning performance by one of our best actresses.
That moment is merely one little example of how "La La Land" belongs to Stone. If she weren't already a star, this would make her one. Since she is, this will make her a superstar — and probably an Oscar winner. She is radiant throughout the movie as the struggling Mia tries to make her way in Hollywood while simultaneously falling for Ryan Gosling as another struggling artist, a jazz pianist.
I've never been a Gosling fan — in fact, the only movies I've enjoyed him in were "The Big Short" and "Crazy Stupid Love" (in which he appeared with Stone) — but he's very good in "La La Land." He and Stone have real chemistry, and they move and sing well, too.
That's important, because "La La Land" is a musical, with a wonderful score by Justin Hurwitz and songs by Justin Paul and Benjamin Pasel ("City of Stars" and "Audition") that will stay with you after you leave the theater (and will probably win an Oscar, too). The choreography by Mandy Moore is a throwback to the days of Ginger Rodgers and Fred Astaire with the style of Gene Kelly and Michael Kidd.
It's all put together beautifully by writer/director Damien Chazelle, who made a big splash in 2014 with "Whiplash." This time, in "La La Land," he and cinematographer Linus Sandgren have opted for long takes that show us the dancing in full frame with minimal edits. For the songs, he had Stone and Gosling sing live on set, not lip-syncing to a playback. Visually, the movie throbs with vibrant color and sensational backgrounds — Chazelle makes full use of Los Angeles as the setting for his story — from the opening sequence on a clogged freeway on-ramp to a dance duet at Griffith Observatory.
The supporting cast includes John Legend, JK Simmons, Rosemarie DeWitt, and Tom Everett Scott, but they are a distant second behind the leads, who do all their own singing, dancing, and piano handiwork (Gosling hadn't played until learning for this movie).
As for Stone, the camera absolutely loves her in "La La Land," and so did I. She gives the best performance in the best movie of the year, which I score a 9.5 out of 10 (deducting a half-point because it's about 20 minutes longer than necessary, but otherwise perfect).
Prediction: while I hope it will reach a large audience in movie theaters, regardless of how "La La Land" does at the box office and on the awards circuit, it seems ready-made for a Broadway adaptation — and I won't be surprised to see it there within a couple of years.