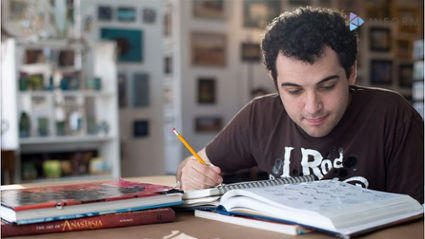 When he was three years old, Owen Suskind's parents Ron and Cornelia noticed that he was suddenly withdrawn and non-communicative. When a doctor diagnosed Owen as autistic, their lives changed. Ron and Cornelia struggled to help their son and desperately wanted to be able to reach inside and pull him out, but they were stymied by his condition.
Then, one day, Owen blurted out a line from one of the many Disney animated movies he'd watched over and over again, and that opened the door. Those cartoons ("The Little Mermaid," "Peter Pan," "The Lion King," etc.) served as a pathway between Owen and his parents. He learned to read from the credits and speak from the dialogue.
Owen was lucky to be born into a family with means and education, willing to do whatever it took to get thru to their son. Ron, a writer for the Wall Street Journal, told Owen's story in a best-selling book, and director Roger Ross Williams has turned it into a wonderfully inspirational documentary. Williams acquired the rights from Disney to use tons of clips, and there's original animation, too, to supplement the real-life story as Owen moves from childhood into adulthood, when he's ready to move out of the house and into his own apartment in an assisted-living facility.
I've never been a huge fan of Disney animation, which tends to be a little too sappy for my taste, but seeing it help Owen — and others in the Disney Movie Club he formed at a school for kids with special needs — is heartwarming.
I give "Life, Animated" a 7 out of 10.
Previously on Harris Online…