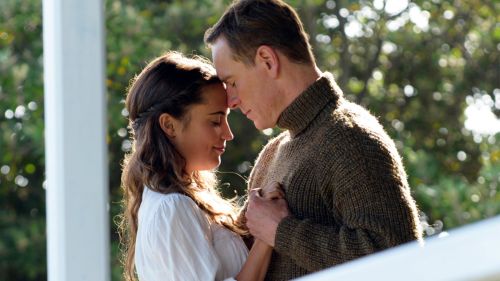 In "The Light Between Oceans," Michael Fassbender is a WWI vet who gets a job as a lighthouse keeper and falls for a beautiful woman in town (Alicia Vikander). They write lots of letters back and forth, and wow, that's some exciting movie action — watching people read and write. Yawn!
Eventually, they get married and, as time passes (very slowly), she has two miscarriages. Then a rowboat washes ashore containing a dead man and a baby (worst Steve Guttenberg movie ever). Alicia convinces Michael to keep the baby and raise it as theirs rather than turn it in to the authorities — after all, no one knows about the second miscarriage, so they'll think she gave birth to the kid.
Years go by (in both movie time and sitting-there-watching-the-movie time) before we meet Rachel Weisz, the real mother of the baby and the only character I cared about. I'm a longtime Weisz fan, so when she's third-billed but doesn't show up for the first hour, I'm not happy. The rest of the plot plays out like a weeping soap opera, and there's a tacked-on ending that's totally unnecessary.
Director Derek Cianfrance, who made the similarly torpid "The Place Beyond The Pines" a few years ago, has a real problem — he chooses stories that don't translate well from page to screen, and then he tells them at an excruciatingly slow pace.
Fassbender and Vikander may have become a real-life couple during this movie, but their onscreen track record of disappointing movies continues after his "Steve Jobs" and her "Ex Machina," "The Danish Girl," and "Jason Bourne." They're all better than this one, but that is faint praise.
I give "The Light Between Oceans" a 2 out of 10.