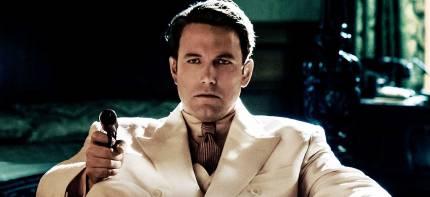 Several times in the last few decades, I've said I didn't need to see another mobster movie. After "The Godfather" saga and "Goodfellas," what else was there to tell? Then came "Donnie Brasco." Then "The Departed." Then "American Gangster." They all pulled me back in.
"Live By Night" isn't in that pantheon of great mob movies, but it's pretty good.
Based on a novel by Dennis Lehane ("Mystic River," "Gone Baby Gone," "Shutter Island," "Moonlight Mile"), "Live By Night" takes place in the 1920s during Prohibition. It was written, directed, produced by and stars Ben Affleck as Joe Coughlin, who came home from World War One and got involved in some illegal activities despite being the son of a police captain (Brendan Gleeson). Joe also started dating Emma Gould (Sienna Miller), who happens to be the mistress of Irish mob boss Albert White. That's the sort of romantic triangle that is destined to lead to trouble — and it does.
There's some blackmail and double-crossing before Joe is forced to run a bootlegging operation in Tampa on behalf of White's rival, Italian mob boss Maso Pescatore. Things go so well that he eventually expands the operation to include gambling and drugs while falling for a Cuban businesswoman (Zoe Saldana) and befriending the sheriff (Chris Cooper), whose daughter (Elle Fanning) he's trying to protect. Oh, and the KKK is involved, as well.
If that plot sounds dense, it is, because Lehane's book can only be considered epic. It covers a couple of decades, and Affleck has to squeeze it into a couple of hours, which means lots of exposition and some time jumps. Some of it doesn't work, but most of it does. He gets very good performances out of a wonderful cast, and the cinematography — particularly one shot of a boat cruising through the water at sunset — is absolutely beautiful.
"Live By Night" pulled me back into the world of mobsters and made me change my mind yet again. I give it a 7.5 out of 10.