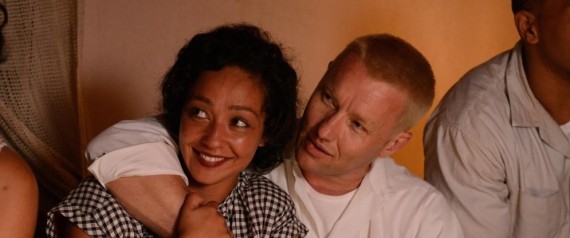 In "Loving," Ruth Negga and Joel Edgerton play Mildred and Richard Loving, an interracial couple whose marriage led to a landmark Supreme Court decision.
The movie starts in 1958, when they were a young couple in love in rural Virginia. They decided to get married and went up to Washington, DC, to have a civil ceremony, but when they returned home, they were awakened in the middle of the night by the sheriff and two deputies who arrested the Lovings for breaking the state's Racial Integrity Act. The crime, which had been on the books since 1924, was called "miscegenation" and was illegal in 24 states at the time.
The judge gave them a choice — they could go to prison or leave Virginia and not return for at least 25 years. They moved to Washington, where they stayed for a few years, but didn't like it and wanted to go home. As the Kennedy administration and the Civil Rights Movement became intertwined, Mildred wrote a letter to Attorney General Bobby Kennedy, who decided the White House couldn't get involved, but the ACLU could.
The next thing she knew, Mildred got a call from a rookie attorney named Bernard Cohen who, with the help of another young lawyer named Philip Hirschkop, represented the Lovings pro bono to fight the case. They pushed it out of Virginia state courts and into the federal judiciary, where the matter eventually went to the Supreme Court, which ruled in the Lovings' favor, thus overturning all the miscegenation laws in 1967. That decision was as important in 1967 as the gay marriage ruling in 2015 — it said the government has no business telling people who they can fall in love with and marry.
Negga and Edgerton are very good as the Lovings, who were quiet people without much education, but loved each other very much, and that comes through in their dignified performances. Writer/director Jeff Nichols made the right choice in focusing on the couple, not on the legal proceedings.
"Loving" is one of the best movies of the year. I give it an 8.5 out of 10.