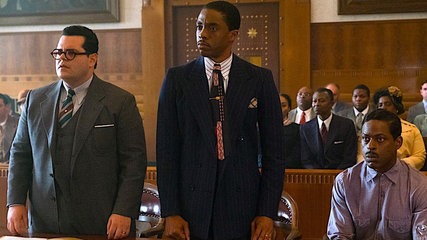 When it comes to playing real people on the big screen, Chadwick Boseman is three for three. He captured the stoic nature of Jackie Robinson in "42," unleashed the funk power of James Brown in "Get On Up," and now portrays Thurgood Marshall, a towering figure in American legal history, in "Marshall."
Unlike "Get On Up," "Marshall" doesn't try to tell the full story of the civil rights lawyer who became America's first black Supreme Court justice. Nor does it focus on the big cases he argued before that court, including the landmark 1954 Brown v. Board Of Education case that desegregated schools. Instead, the movie focuses on a case from early in his career, in 1941, when he was the only litigating attorney for the NAACP, which sent him to Bridgeport, Connecticut, to defend a black man charged with the rape and attempted murder of a wealthy white woman.
Because Marshall had not been admitted to the bar in Connecticut, he enlisted the help of a local attorney, Sam Friedman (Josh Gad), who didn't practice criminal law but agreed to make the introduction of Marshall to the court. But when the judge (James Cromwell) insisted that he remain quiet in the courtroom while Friedman acted as the criminal defense lawyer, Marshall had to figure out a way to make the case as a silent partner. Well, partner isn't the right word, because it was clear that Marshall was the lead lawyer with much more experience and legal savvy. As for Friedman, he was rightly wary of the publicity the case would bring because, even though this was Connecticut, there were still enough racists and anti-Semites around to make trouble for both of them.
"Marshall" has echoes of "To Kill A Mockingbird" in its white-woman-black-man sexual assault charge, and in the way it doesn't shy away from the racial hatred just outside the courthouse doors while the drama plays out inside. Veteran director/producer Reginald Hudlin gets good chemistry out of Boseman and Gad as the unlikely legal team. Gad manages to sublimate his silliness as Friedman, and Cromwell is as solid as ever as the judge. Sterling K. Brown is very good as Joseph Spell, the chauffeur and butler charged with the horrible crimes, and Kate Hudson does some of her best work in years as the woman who accuses him.
But the movie belongs to Boseman, who imbues Marshall with cockiness, fearlessness, and intelligence to create a strong portrait of a man who spent his life fighting for the underdog. My only small complaint is that the script takes time away from the legal proceedings to show us some of Marshall's personal life, which does nothing to further the story.
Still, I liked "Marshall" enough to give it an 8 out of 10.