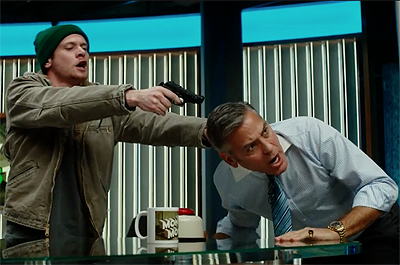 I'm disappointed that other movie reviewers are dissing "Money Monster," the new George Clooney/Julia Roberts film directed by Jodie Foster. I think they were expecting another "The Big Short," and instead got a nice piece of movie entertainment that doesn't hit you over the head with revelations about the financial world, but does leave you with a smile on your face. And the audience I saw it with enjoyed it a lot, too.
In "Money Monster," Clooney plays Lee Gates, a Jim Cramer-like host of a TV stock-picking hour, complete with sound effects, garish graphics, and two dancers who help him open each show. It's goofball financial advice played for ratings, not reality. On this particular day, Lee's show is interrupted by Kyle (Jack O'Connell, who played Louis Zamperini in Angelina Jolie's "Unbroken"), a delivery man who lost his nest egg on Ibis Financial, which Lee had told his audience was better than putting your money in a bank. He pulls out a gun, makes Lee put on a bomb vest, and holds him hostage while his producer/director Patty (Roberts) and the crew broadcast the scene to their live TV audience. That begins the adventure that plays out over the 95 minutes of the movie (a perfect running time, by the way).
Roberts and Clooney are not on screen together very much, but she's in his head via his earpiece a la Holly Hunter and William Hurt in "Broadcast News." My wife, who used to work in TV news control rooms, says Foster gets those scenes right, and adds the right amount of humor to lighten up the tension.
As I said, "Money Monster" is not really a statement about the stock market being rigged, but an indictment of pundits on financial news networks telling you which stocks to buy and sell or which funds to invest in — with no accountability for the predictions — and the hedge fund managers who manipulate them. It also says some interesting things about the relationship between Clooney's character and his audience, and the voyeur-ish habits of the public.
So what if "Money Monster" isn't "The Big Short" or "Broadcast News" or "Dog Day Afternoon"? That's a very high standard to compare this bit of entertainment to. Instead, just go and enjoy the fun of watching Clooney, Roberts, O'Connell, and a good supporting cast including Dennis Boutsikaris and Giancarlo Esposito.
I give it an 8.5 out of 10.