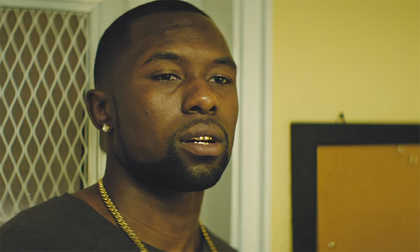 "Moonlight" is the first movie I've seen about the coming of age of a young gay black man. It is told in three chapters of his life, played by 3 different actors — Alex Hibbert, Ashton Sanders, and Trevante Rhodes.
As a young boy, he's known as "Little," a shy, scrawny kid who lives in the projects in Miami with a crackhead mother (Naomie Harris). He's bullied by other kids until he's discovered by a local drug dealer (Mahershala Ali from "House Of Cards"), who lets the boy spend the night at his house. Though Little goes home the next day, the drug dealer and his girlfriend become his surrogate parents, teaching him to swim in the ocean and letting him spend the night when mom is too whacked on crack.
As a teenager, the boy is known as Chiron, and is still bullied by bigger, tougher classmates. Only one childhood friend, Kevin, sticks by him, and one night they sit on a deserted beach to share a joint and a physical encounter. But the next day, Kevin turns against him at the urging of some homophobic bullies.
In the movie's third chapter, Chiron — now known as Black — is living in Atlanta. He makes money dealing drugs, but has no one in his life until he gets a surprise phone call from a repentant Kevin. They get together again in the final scene.
That's really all there is to the story, and writer/director Barry Jenkins takes too long in each chapter to tell it. The performances are all good, and the plot is groundbreaking in that we haven't seen a main character like this in a movie before, but I never really cared about Little/Chiron/Black — and that's a flaw in any movie, regardless of his race or sexual orientation.
"Moonlight" is getting a lot of Oscar buzz and raves from other critics, but I only give it 5/10.