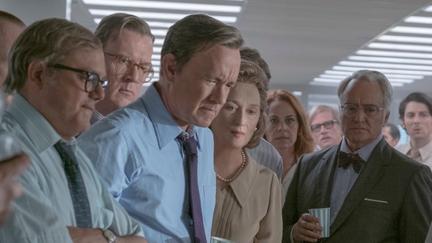 "The Post" is the story of the internal decision-making at The Washington Post over the publication of The Pentagon Papers in 1971. Those documents, leaked by Daniel Ellsberg, proved that the US government had been lying to us for years about our involvement in Vietnam.
The New York Times was actually the paper that printed those revelations first, but Richard Nixon's White House convinced a judge to bar the Times from publishing more. When the Post subsequently got its hands on the documents, its management team had to decide whether to risk the wrath of a federal court and the administration by printing what it had. That decision could only be made by the paper's publisher, Katherine Graham (Meryl Streep).
At the time, Graham had run the family-owned newspaper for just a few years following the suicide of her husband, and was not taken seriously by her male employees and colleagues. She was the only woman in such a position at a major newspaper, although the Post had yet to distinguish itself as more than a local DC paper at the time (that changed after the Pentagon Papers and, of course, its landmark coverage of Watergate). The company was, however, in the process of going public, and she was pressured by the businessmen surrounding her not to rock the boat or risk losing institutional support for the stock offering.
Meanwhile, Ben Bradlee (Tom Hanks) and his team of editors and reporters were gung-ho to get the devastating details of the ongoing federal cover-up into print. It is that battle of journalistic integrity vs. the continued existence of the newspaper that drives the drama of "The Post." Although we know the outcome from history, director Steven Spielberg keeps us riveted. The script by newcomer Liz Hannah (with some punch-up by "Spotlight" scribe Josh Singer) shows us how Graham's upper-class life — which included friendships with the Kennedys, Johnsons, Reagans, and then-Secretary of Defense Robert McNamara (Bruce Greenwood), whose role in the Vietnam cover-ups was exposed in the Pentagon Papers — impacted her decision-making process.
As if that isn't enough, the impressive supporting cast includes Bob Odenkirk, Bradley Whitford, Sarah Paulson, Alison Brie, Carrie Coon, Jesse Plemons, Tracy Letts, David Cross, Michael Stuhlbarg, and Zach Woods.
While not as good as "All The President's Men" or "Spotlight" or "The Paper", "The Post" is a riveting and heroic tale of journalists trying to uncover the truth and share it with the world. Moreover, as our modern history echoes the past, it's a still-necessary lesson in the power of the press to keep government in check, a cautionary tale of how lies told by the most powerful people in our nation can lead us down a dangerous (and deadly) path if not dragged out into public view.
I give "The Post" an 8.5 out of 10.