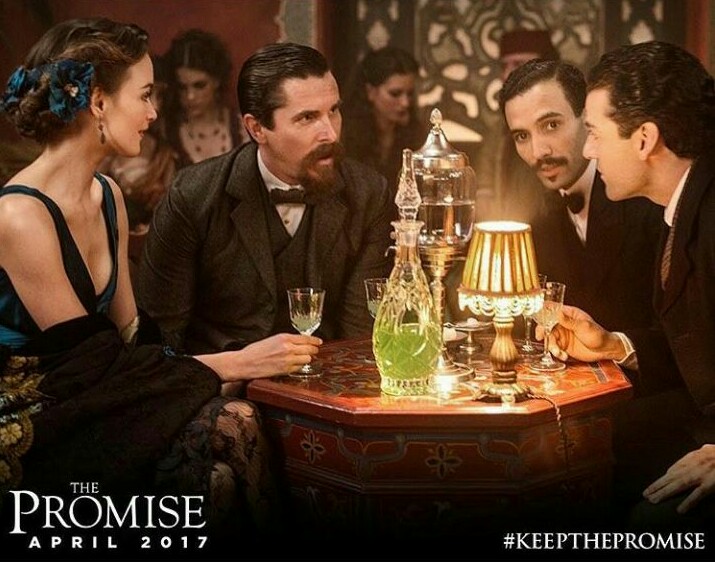 I've never seen a major motion picture that tackles the Armenian Genocide of a hundred years ago. After watching "The Promise," I can now say that I've seen half a movie on that subject. Unfortunately, like other historical epics (e.g. "Pearl Harbor" and "Titanic"), the drama of that horrible reign of death (1.5 million Armenians were killed by the Ottoman Empire in its last days, an outrage never acknowledged by the government of Turkey) is undercut by a Hollywood-created love triangle.
Set in 1915, "The Promise" introduces us to Michael (Oscar Isaac), who goes through with an arranged marriage in his small town so that he can use the woman's dowry to move to Constantinople and attend medical school. While there, he meets Ana (Charlotte LeBon), a beautiful French/Armenian woman, and Chris (Christian Bale), an American journalist for the Associated Press she's dating.
I'm not a fan of Isaac, having despised several of his earlier movies ("Inside Llewyn Davis," "A Most Violent Year," and "Ex Machina"), but I've been very impressed with Christian Bale's work over the last decade ("The Big Short," "American Hustle," "The Fighter," and his three Batman movies). As for LeBon, I liked her work in "The Walk" and "The 100-Foot Journey," but those were small supporting roles, and here she's thrust into the middle of the romance and the action.
"The Promise" was written and directed by Terry George, who made a much better movie about genocide in 2004 called "Hotel Rwanda," starring Don Cheadle in a career performance as a hotel manager trying to save lives while the Hutu militia killed thousands of Tutsi refugees in Rwanda. There's no romantic angle to that, and there shouldn't have been one in this. Because of George's attention to the love triangle, he takes too long to get to the far-more-compelling story of Armenians being forcibly removed from their homes and marched into the country to be killed. It's the kind of movie where one of the top ten characters dies, and it's made out to be sadder than an entire village being wiped out.
A side note: Last October, before the official release of "The Promise," when it had only been shown at three film festivals, IMDb had already received 86,000 ratings for the movie, most of them from outside the US. It turns out that there was an internet campaign to destroy the movie by Armenian Genocide deniers, who gave it a mere one star. That led to a counter-campaign by Armenians, who voted by the tens of thousands to give it ten stars. As of this week, the movie's rating on IMDb is around a 5, but it's not representative of people who have actually seen the movie — the system was hijacked by activists who hadn't viewed it.
As for me, I give "The Promise" a 7 out of 10, despite its terrible title. "The Promise" referred to has to do with Michael's vow to his betrothed in his hometown, but that has very little to do with where the script takes us. Still, it's a story that hasn't been told before in a film of this scale (with a budget of a hundred million dollars). I just wish it had concentrated more on the genocide, yet another piece of world history that we were never taught in school.