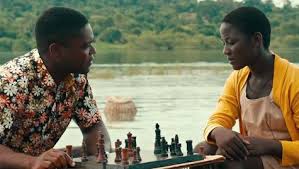 Until now, there has been exactly one great movie about chess, "Searching For Bobby Fischer," the 1993 drama about Josh Waitzkin, a real-life chess prodigy played by Max Pomeranc, with Joe Mantegna and Joan Allen as his parents and Ben Kingsley and Laurence Fishburne as chess teachers with very different methods.
Now comes "Queen of Katwe," another real-life story about Phiona Mutesi (Madina Nalwanga), a girl from the very poor Ugandan village of Katwe who develops an extraordinary talent for chess. She's coached by Robert Katende (David Oyelowo, who should have been Oscar-nominated for playing Martin Luther King Jr. in "Selma"), who introduced to the game to several of the boys and girls in the village. When her abilities become more apparent, he wants to take her to regional, national, and then international competitions, but money is a severe problem.
Her mother, played by Lupita Nyong'o (Oscar-winner for "12 Years A Slave"), is barely keeping a roof over their heads for Phiona and her brothers and sisters by selling corn in the marketplace — their father is long gone. Her daughters don't have much of a future in the town unless they take up with a man with money (as Phiona's sister Night does), but with Katende's urging and his clever politicking with the chess authorities, Phiona grows from a child of the slums to a teen with a talent that can help her rise above her surroundings.
Director Mira Nair doesn't let "Queen Of Katwe" fall into Disney's underdog-wins-in-the-end cliches. She gets wonderful performances from Nalwanga and all the other child actors. Nyong'o is just right as the mother overwhelmed by her circumstances, and Oyelowo is perfect as the chess mentor who teaches Phiona about the game and how to overcome life's obstacles. Nair also uses a color palate that keeps the scenes vibrant even when the drama is at its most intense.
"Queen Of Katwe" is a wonderful family movie. It would be nice to see it inspire more kids of color (as well as Caucasians) to take up chess, to learn its strategies and its disciplines, to understand how to plan ahead and consider the consequences of their actions — both on and off the board.
I give "Queen of Katwe" an 8 out of 10.
Watching it, I was reminded of two other chess movies that, while not as great as "Searching For Bobby Fischer," are both very good. One is "Brooklyn Castle," a documentary about a public school in New York's poor BedStuy neighborhood that keeps turning out chess champions. The other is "Pawn Sacrifice," with Tobey Maguire as Bobby Fischer taking on Boris Spassky (Liev Schreiber) in Reykjavik in 1972.
Previously on Harris Online…