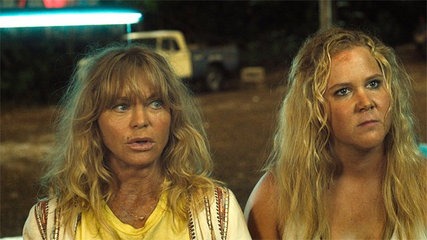 In "Snatched," Amy Schumer plays an irresponsible, self-absorbed woman (the kind who takes a hundred selfies a day) whose boyfriend breaks up with her just before they are going to take a nonrefundable trip to Honduras together. Since none of her friends will go with her, she recruits her mother, played by Goldie Hawn (yes, this is Mother's Day weekend).
Hawn, who hasn't made a movie in a decade and a half, is a homebody who's afraid of the rest of the world and happy to stay in her house with her cats and her grown son. But Schumer convinces her to go along, and pretty soon they're on a beach in Honduras, where Schumer lounges in the sun in her bikini with a drink while Goldie stays covered up and worries about skin cancer. Soon Schumer meets a good-looking guy at the bar, they go off for the evening and have a good time, and make plans for a trip through the jungle the next day. Schumer drags Hawn along, and before they know it, they've been kidnapped, and "Snatched" turns into a buddies-on-the-run comedy.
To tell you much more would be to give it away, but you know they're not gonna end up dead — although there are a few corpses along the way, along with supporting roles for Wanda Sykes and Joan Cusack, who steal every scene they're in as fellow Americans on vacation, and Christopher Meloni acting like he's Michael Douglas in "Romancing The Stone."
"Snatched" was written by Katie Dippold, who also worked on "The Heat" and the "Ghostbusters" reboot, and this one follows along in the same comic rhythms. Director Jonathan Levine keeps the action moving without letting it get in the way of the ridiculous situations Schumer and Hawn find themselves in, and there are several set scenes that are quite funny, including one with a tapeworm. As for Hawn, she still has the timing and the comedy chops at age 71 — and looks like she's having a blast working with Schumer.
In 2015, I said Schumer's "Trainwreck" was the funniest movie of the year. This isn't that good, but it's worth your time, especially considering that there aren't many decent comedies in movie theaters these days. If you like her, you'll like "Snatched."
I give it a 7 out of 10.