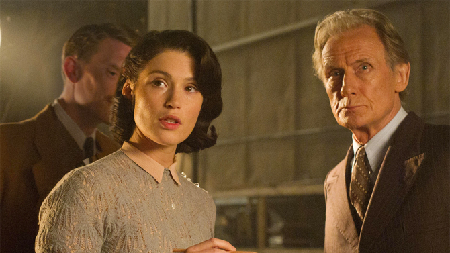 Based in London in 1940, "Their Finest," is the story of Catrin (Gemma Arterton), a woman hired by the Ministry of Information's film division to work on a story that can be uplifting and morale-boosting, particularly for female audiences. She thinks she's up for a secretarial spot, but ends up on the writing team of an adventure movie based on a story of two women who tried to help soldiers during the Battle of Dunkirk.
She works with two male screenwriters, one of whom she develops a close friendship with, despite pretending she's married to an artist that she lives with. The latter part of the story is completely unnecessary and gets in the way of the goofiness of making the film. The movie-within-a-movie includes Ambrose Hilliard (Bill Nighy), an ex-matinee idol now in his 60s who not only gets Catrin to write better material for his character, but also is forced to help coach an American war hero who's been enlisted to be in the movie but has no acting talent whatsoever.
"Their Finest" mixes drama and comedy in the correct proportions, with the bombings and air raids that were part of London life during WW2 providing some of the former and Nighy providing much of the latter. You may have to look to find this one in a theater near you, but it's worth it.
I give "Their Finest" a 7.5 out of 10.
Note: do not confuse this with "The Finest Hours," which made my Worst Movies Of 2016 list.