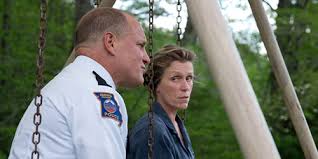 It's nice to see a movie where the characters don't all act as you expect them to, where you make assumptions about them early on based on their actions, but then have them turned upside down as the plot develops. That's one of the best things about "Three Billboards Outside Ebbing, Missouri," a dark comedy that will end up on my Best Of 2017 list.
Frances McDormand plays Mildred Hayes, a mother grieving over the horrific death of her daughter nine months ago. The police haven't caught the culprit and have given up on the case. So Mildred decides to rent those three billboards to send the sheriff a message in an attempt to get the investigation going again. The signs raise the ire of Sheriff Bill Willoughby (Woody Harrelson) and his deputies, including Officer Jason Dixon (Sam Rockwell), who try to get Mildred to take the billboards down, but she refuses and the battle is on.
I am going to stop right there, because to reveal any other plot points would be to spoil your enjoyment of this terrific movie, which has the same tone as the best work by the Coen brothers — especially "Fargo," which also starred McDormand. She is fantastic as the deeply grieving mother, worn down by life and death. Harrelson and Rockwell match her step for step. It's some of the best work all three of them have ever done. There's also some wonderful support from Abby Cornish, Peter Dinklage, Caleb Landry Jones, John Hawkes (who was so good in the movie that made Jennifer Lawrence a star, "Winter's Bone") and Zeljko Ivanek (who I always enjoy even though I can't pronounce his name correctly).
What makes "Three Billboards" unique is the way the characters change. Just when you think you've learned who this one is and how he/she will act, they do the opposite. It's that unpredictability that drives the story and keeps us on our toes. Martin McDonagh — who wrote, directed, and produced the movie — has a terrific eye and ear for the way real people speak to each other. He captures these small-town Americans just right as he treads the thin line between tragedy and comedy. His script will almost certainly be nominated for an Oscar for Original Screenplay.
It's hard to find anything I didn't like about "Three Billboards Outside Ebbing, Missouri," so I'm giving it a 9.5 out of 10.