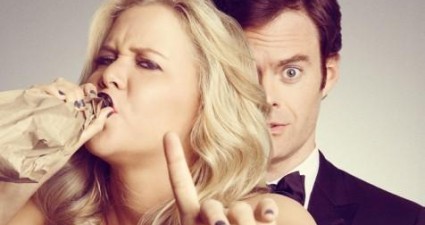 In May, I wrote a piece praising Amy Schumer for her Comedy Central show, which has been especially innovative and funny this season. That's why I was so looking forward to her move to the big screen with her first movie, "Trainwreck," which opens today.
I'll cut to the chase: "Trainwreck" is the funniest movie I've seen since Chris Rock's "Top Five" last year. I give it an 8.5 out of 10.
Schumer plays Amy Townsend, who learned as a girl from her father (Colin Quinn) that monogamy is no good, and now that she's an adult, she puts that advice into practice on a regular basis. She gets drunk, she smokes weed, and she sleeps with any guy she wants, as long as there's no commitment (the thought of even spending the entire night is abhorrent to her). During the day, she's a writer for a horrible magazine called "S'Nuff," who is assigned to write a piece about Aaron Conner (Bill Hader), a sports medicine physician and surgeon. They fall for each other and start a relationship that involves more than sex — new territory for Amy.
Along the way, we meet the stellar supporting cast, including Tilda Swinton as Amy's beastly boss, Vanessa Bayer as her co-worker, Dave Attell as a homeless guy who begs in front of Amy's apartment every day, and 100-year-old Norman Lloyd as a mouthy resident and friend of Quinn's character in an assisted-living facility. There are also a slew of other celebrities you'll recognize, and I'm not going to spoil those surprises, yet one deserves special props. That's Lebron James in a standout performance as Aaron's patient, friend, and confidant. He's funny, endearing, and incredibly likable. It's the best movie work by an NBA star since Kareem Abdul-Jabbar in "Airplane."
But the movie belongs to Schumer, who carries every scene winningly. It's her star vehicle, and she hits it out of the park. Which brings me to a complaint about the marketing. Take a look at this poster for the movie: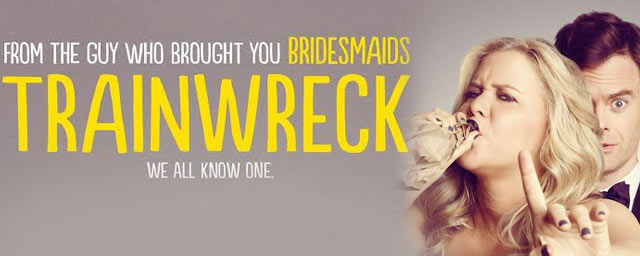 It promotes Schumer's movie as "From the guy who brought you 'Bridesmaids.'" That would be Judd Apatow, who directed "Trainwreck" (and did a fine job) and helped convinced Schumer to turn her ideas into the finished product — but she is the one who wrote it. And stars in it. For months, Schumer's been the one making headlines every time she gives a speech or shows up at an awards ceremony. I know Apatow is a Hollywood comedy brand unto himself, but to not focus all the marketing on her is ridiculous.
One caveat: like "Top Five," this is a very raunchy movie that deserves its R rating. Schumer's script is full of sexual material (though the only nudity is men's butts) and language. None of it bothered me.
In fact, like Rock's film, "Trainwreck" made me laugh out loud repeatedly. It's going to launch Schumer to a new level of stardom, so that next time, the pronouns in the movie posters will all be female.