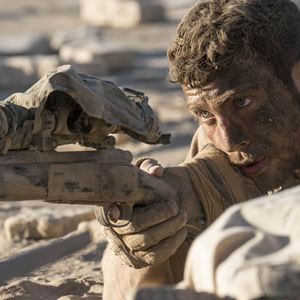 Other than "American Sniper" and perhaps "The Hurt Locker," movies about the wars in Iraq and Afghanistan haven't resonated with the American movie-going public. Unfortunately, "The Wall" isn't going to change that. It's not because it's a bad movie, but because it's about American soldiers as victims, the targets of an unseen enemy sniper.
It takes place in 2007, as the war in Iraq was supposed to be coming to an end. It starts with John Cena and Aaron Taylor-Johnson as a US Army sniper and his spotter laying in the bushes while trying to find whoever it is who killed contractors building a pipeline in the Iraqi desert and their security guards. Having watched for more than 19 hours, and believing the scene to be safe, Cena decides to go down the hill and check things out for himself, but when he gets down there, he's shot by the Iraqi sniper who's also been laying low.
With Cena down, Taylor-Johnson rushes to rescue him, but the sniper gets him in the leg. Taylor-Johnson hides behind a short unsteady rock wall, pinned down and thinking Cena is dead. Then the movie becomes a psychological battle, as the Iraqi has gotten his hands on one of his victims' radios, and starts communicating with Taylor-Johnson, extracting information he can use to ambush more American soldiers as he remains out of sight somewhere in the hillside.
The reason I don't think it will draw much of an audience is because Americans don't want to see our service members in trouble, with very little chance of survival — but that doesn't mean "The Wall" is a bad movie. It is a tense thriller that keeps us wondering how our hero will get out of this untenable situation.
Director Doug Liman — who made the action classics "The Bourne Identity" and "Mr. and Mrs. Smith," as well as "Swingers" — keeps us engaged throughout, even though the only person we see onscreen for most of the movie is Taylor-Johnson, who does a very good job of showing us his character's desperation, dehydration, and decreasing hopes.
I give "The Wall" a 7 out of 10.