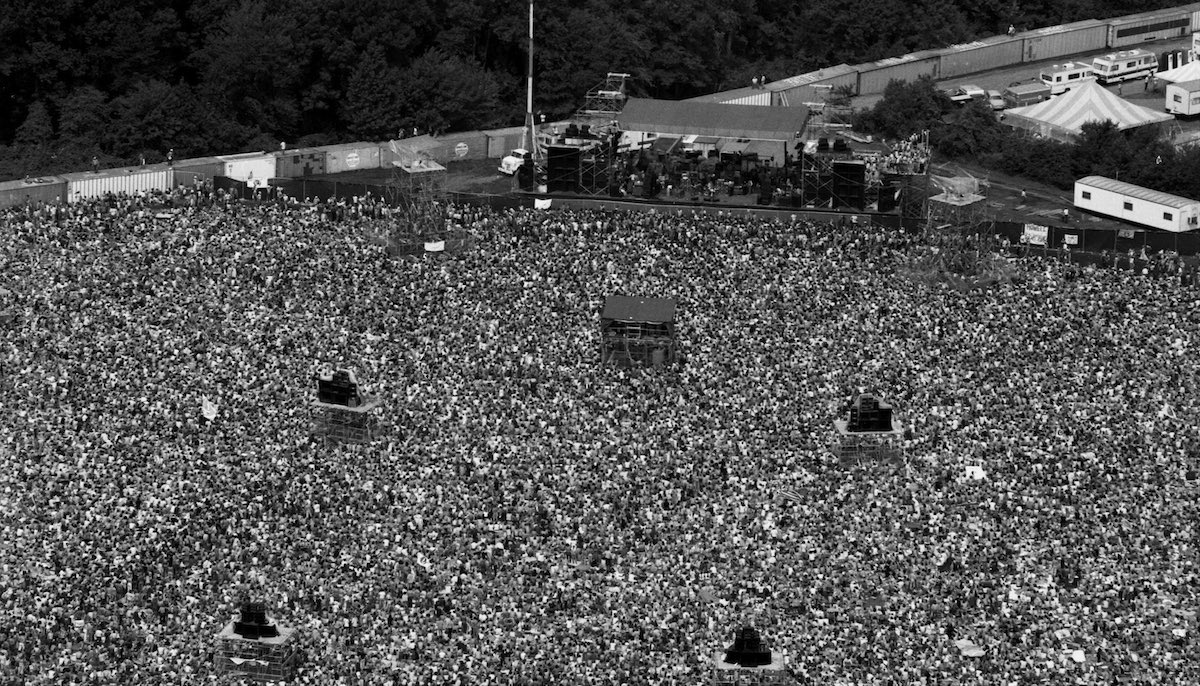 I was in the Chicago area this weekend, but did not attend one of the Grateful Dead's "Fare Thee Well" concerts at Soldier Field for two reasons:

I enjoy many of their songs, but I've never been a Deadhead by any means, and these shows were for the faithful;
I'm too old for that kind of thing.
While there were certainly a lot of people my age and older in attendance, I long ago lost the desire to be part of any event attended by tens of thousands of people simultaneously. The Soldier Field crowds were in the 70,000-person range — way too many humans for me.
But I didn't always feel that way about crowds or The Grateful Dead. In fact, on Labor Day weekend, 1977, I was at their concert at Raceway Park in Englishtown, New Jersey, an event that also featured New Riders Of The Purple Sage, The Marshall Tucker Band, and a crowd of 100,000.
A year earlier, as a college freshman, I probably couldn't have named more than 3 Dead songs, but then I became very good friends with Phil Giovanelli, who had moved into my dorm for our sophomore year. He explained Deadhead culture to me and introduced me to their music, which he knew inside and out. The following August, Phil called to tell me about the Dead's upcoming show in Jersey and asked if I want to go. I said yes immediately, but had no idea what was in store.
Englishtown was about an 80 mile drive, and the concert was scheduled to start at noon, so we planned to leave early that Saturday morning. But around 8pm Friday, Phil called to say he'd heard a radio report that traffic was getting congested at the NJ Turnpike exit we'd be using, so he suggested we leave earlier — like now. He said he'd pick me up in a half-hour.
I went downstairs and told my parents the new plan. They were remarkably cool about it — my mother even helped me pack the cooler with beer, soda, and whatever munchies we had in the house, along with a sleeping bag. Before I knew it, Phil was outside with his high school friend Dave Livingston, who was driving. I think there was a fourth guy along for the trip, but I have no memory of who he was.
It didn't take long before someone lit up a joint and we passed it around. From that moment until we arrived home 30 hours later, I was stoned non-stop. Perfect mindset for a Dead show.
We twisted the radio dial between the three big rock stations (WLIR, WNEW-FM and WPLJ), trying to get any information about the concert. One of them had a vague report about the gates at the raceway being open and people streaming in already. We were as anxious as we were excited.
As we drove south down the Turnpike towards Exit 9, we thought perhaps all the anxiety was for naught because there wasn't much traffic at all. Unfortunately, as soon as we got off the highway, we quickly ran into a wall of cars, and the next ten miles of the drive took about 2 hours. At that point, we weren't sure how close we were to the raceway — the guy who invented Google Maps was still in elementary school — but we were at a dead stop and people were walking past us in droves. That's when we noticed that none of the cars in front of us had people in them — they'd been abandoned right there by people going to the concert. Dave decided that if they could do it, so could we, so he threw the car into park and we unloaded our supplies to join the human caravan for a couple of miles until we reached our destination.
By now, it was after 1am. We were exhausted but giddy as we found a spot on the hill overlooking the stage, spread out our blankets and sleeping bags, had a few more beers and joints, and got to know some of the other early-birds around us. One guy not far away had brought his acoustic guitar and led a Grateful Dead singalong for an hour or so before we faded off to sleep.
We awoke with the sunrise in amazement at how the crowd had grown, with more people still streaming in. There wasn't a patch of available dirt between us and the stage. We wandered around to check it all out. At about 10am, the sound guys showed up and started playing some taped music over the speakers, which woke up the rest of the crowd and cranked up the excitement level.
The concert was supposed to start at noon, but New Riders of the Purple Sage didn't come on until close to 1pm because fans were still rolling in. They played for about an hour, including their FM-radio hit, "Panama Red." Then another hour went by while the stagehands reset for The Marshall Tucker Band, who came on around 3pm. They were at the height of their popularity, with "Can't You See" already a radio mainstay and "Heard It In A Love Song" making it onto Top 40 radio earlier that year. Tucker loved to jam, and their time on the road (up to 300 shows/year) had turned them into a great live band. They were also one of only two successful rock acts to feature a flute player (the other being Jethro Tull, another band whose name did not come from any of its members).
Tucker played for two full hours, followed by another hour to reset the stage for The Dead. By this point, the heat and a couple of intermittent showers had turned Raceway Park into a muddy, sweaty mess, and the line for the porta-potties seemed interminable.
We didn't care. The Grateful Dead were coming on stage.
The band was having one of its biggest years, with a new album called "Terrapin Station" getting substantial FM radio play (in particular, "Estimated Prophet" and their cover of the Rascals' "Good Lovin'") and a coterie of devoted fans who followed them across the country, recorded bootlegs of their shows and swapped them with other fans (with the Dead's tacit approval) had only increased the Deadhead legend.
From the moment they started their first set, Phil was in heaven, as was everyone around me. I may have been the only one their who couldn't identify every song, but he helped fill the gaps in my Dead knowledge. Then, as they started their 8th or 9th tune, he looked stumped. They were playing something very slow that I knew wasn't off the "Terrapin" album, which I'd been playing repeatedly on my college radio show all year, but I was shocked that even Phil didn't recognize it from the long musical introduction. Then Jerry Garcia stepped to the microphone and slowly sang,
I lit up from Reno, I was trailed by twenty hounds…
Phil jumped up the air, turned to us and said, "It's 'Friend Of The Devil!' Wow! I've never heard this version!" I looked around at other Deadheads nearby and saw the same reaction on their faces. The crowd was blown away.
They played another song or two, then announced they were taking a break, but would be back soon. In concert parlance, "soon" has no relative meaning. In this case, it meant an hour later, when The Dead returned for their second set, in which they played mostly material from the new album, capped off by their best-known tune, "Truckin'." The hundred-thousand held aloft lighters and kept cheering until The Dead returned for an encore that consisted of the 16-minute "Terrapin Medley" from the album's second side, and then said good night. Yes, the long day had turned into night.
By that point, we were pretty wiped out as we collected our now-empty coolers and other paraphernalia and started the long slog back to the car. None of us had any idea where we'd left it, but once again, we joined the sea of humanity down the main road until we found it, somehow got it turned around and inched our way back to the Turnpike and headed north. I didn't get home until 4am Sunday, happy to have had the adventure, but so exhausted that it was all I could do to climb the stairs and fall into bed, where I pretty much lay the entire day — bringing new meaning to the phrase Dead Tired.
Nearly four decades later, I can't imagine doing anything like that again. But I'm sure glad I did when I was 19.