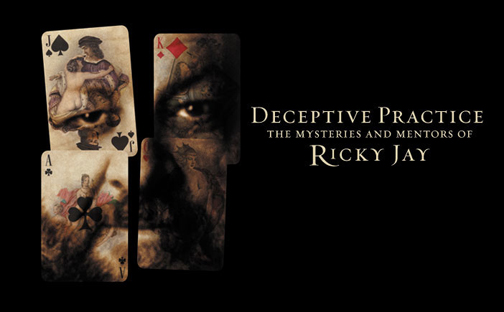 I have added another title to my Movies You Might Not Know list: "Deceptive Practice: The Mysteries and Mentors of Ricky Jay." Jay is one of just a few magicians whose work I have admired for many years. He is a master manipulator, both of cards and an audience, with patter so perfectly chosen that it's only fitting that he be close friends with David Mamet, in whose movies he has appeared more than a half-dozen times (beginning with another title on my list, "House of Games").
"Deceptive Practice" is a documentary about Jay's life, his work, and the magicians of the past who inspired him. He has an extensive collection of magic lore dating back centuries, with stories he shares about many of the performers he learned from, including the legendary Dai Vernon and Charlie Miller. The movie includes plenty of footage of Jay performing on television and in his two Broadway shows, both of which were directed by Mamet, as well as at smaller gatherings and lectures. While several people who have worked with him make it clear that he's not always the nicest guy to be around, that doesn't deter from the joy of watching Jay wielding a deck of cards. Much of it is simply stunning.
Updated April 2, 2014: As of today, "Deceptive Practice" is streaming on Netflix.
In addition to "Deceptive Practice," I recommend watching Jay at work in:
"Ricky Jay and His 52 Assistants," his first Broadway show, which was filmed for a 1996 HBO special. It has never been released as a DVD — but it's on YouTube here.
"Ricky Jay Plays Poker," an odd set that includes a CD of poker-related songs (by Bob Dylan, Patsy Cline, and others) and a DVD of Jay doing card tricks at a poker table for five friends (including John C. Reilly and Willie Garson). That half-hour is on YouTube here.