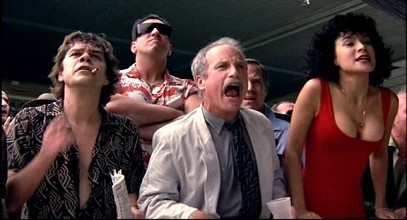 The newest addition to my Movies You Might Not Know list is "Let It Ride," a 1989 comedy starring Richard Dreyfuss as a gambler who gets inside information on a horse and decides to act on it. The tip comes via David Johannsen, a fellow gambler and cabbie, who records two men in the backseat talking about how they've had their jockey hold a horse back in its last few races to make it seem like a loser. Having run up the odds, they plan to put a big bet down the next day and have him run all-out.
Dreyfuss and Johannsen head to the track, but only the former bets on the horse, which does beat the others to the finish line. After he collects his modest winnings, Dreyfuss goes to the paddock to thank the owners, surreptitiously. They're wary until he hands over the cassette that is the only record of their taxi conversation. Then they accept his appreciation by showing him some of their own — they recommend another horse he might want to bet on and give him tickets to sit in the jockey club, instead of the grandstand with his fellow losers.
That's where he encounters a different class of race track customer, with bigger bankrolls and drinks served by tuxedoed waiters — a more upscale group of losers. One of them is Allen Garfield (a character actor you've seen in over a hundred movies) and his girlfriend, Jennifer Tilly, in the most form-fitting red dress you've ever seen and won't be able to take your eyes off.
"Let It Ride" was directed by Joe Pytka, his first and only big-screen live-action effort after several years as one of the top TV commercial directors in the world (his only other movie was "Space Jam" with Michael Jordan and Bugs Bunny). To support Dreyfuss, in full blustery mode from start to finish, he brought in Teri Garr as Dreyfuss' long-suffering wife, plus Michelle Phillips, Cynthia Nixon, and Robbie Coltrane — who steals every scene he's in as the track's ticket clerk who at first despises Dreyfuss than befriends him as the day goes along.
"Let It Ride" is very knowledgeable about the low-lifes who populate horse tracks, every one of whom is sure they're an expert on which animal will win the next race. It's also pretty damned funny.