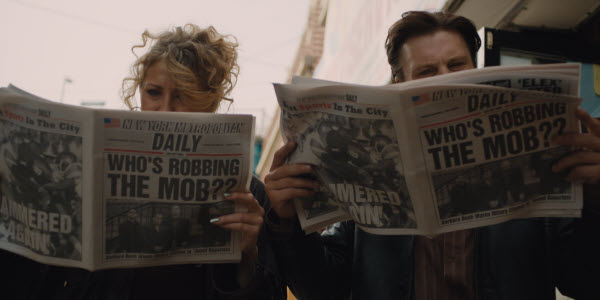 The latest addition to my Movies You Might Not Know list…
To my knowledge, "Rob The Mob," never came out in theaters. I wouldn't have heard of it if it weren't recommended by my colleague Colin Jeffrey. It's based on a true story from 1991, when the John Gotti trial had all of New York mesmerized. Every detail that played out in court was amplified by the city's newspapers and newscasts.
One day, a guy named Tommy, fresh out of jail for robbing a flower shop, goes to the Gotti courtroom to listen to the testimony of Sammy "The Bull" Gravano. Gravano mentions the social clubs where mob guys hang out, and says that none of them are ever armed because "guns and wise guys are not a good combination."
That gives Tommy an idea — rob the unarmed guys in those clubs and take whatever cash and jewelry they have on them. His girlfriend, Rosie, is his getaway driver, and it goes so well they do it a second time, and a third. Along the way, they not only piss off the mob, but attract the attention of the FBI and a newspaper columnist who wants to tell their story.
I won't give away any more of the plot, but I'll tell you that it works because of the cast. Tommy and Rosie are played by two actors I'd never seen before, Michael Pitt and Nina Arianda — she is terrific, very reminiscent of Drea de Matteo as Michael Imperioli's girlfriend on "The Sopranos." The supporting cast includes Andy Garcia, Griffin Dunne, Frank Whaley, Michael Rispoli, Burt Young, and Ray Romano as the columnist.
I don't know why "Rob The Mob" didn't get a full theatrical release earlier this year, but it's on DVD now and worth your time.