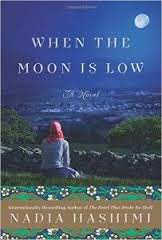 Nadia Hashimi's novel, "When The Moon Is Low," is about a family that escaped Afghanistan as the Taliban was coming to power, only to become refugees trying to start a new life in the streets of Europe's cities. I asked her to join me because we haven't heard much about the Taliban recently, even as it reclaims power in Afghanistan and Pakistan.
We talked about the Taliban's impact on Afghan women and girls, the refugee crisis in several regions of the world, and whether the US has been a welcoming place for refugees of Afghanistan, Syria, and other countries at war in the Middle East.
Listen, then click here to subscribe to these podcasts via iTunes!