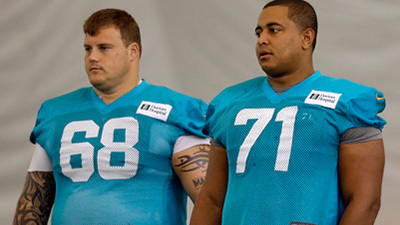 As the Richie Incognito/Jonathan Martin bullying case continues to spill out of the Miami Dolphins locker room, I invited Billy Corben to talk about it on my America Weekend show. Corben directed the documentary "Broke" for ESPN's 30-For-30 series, about athlete finances, and was shocked by tales of "locker room extortion" that veterans force upon rookies in the NFL. For instance, Martin was forced to pay $15,000 for some of the older players to go to Las Vegas, a trip he wasn't allowed to go on. Then there's Leon Searcy, a former Pittsburgh Steelers lineman who spent $20,000 on perks for veterans.
Corben and I also discussed the hazing traditions and locker room culture of the NFL — from racism to bullying threats — and whether outsiders like us should even be commenting on something we've never been a part of. I, of course, have no qualms speaking out whenever I see someone doing something wrong, and don't buy the "it's just our culture" argument that is always used to defend wrongful behavior.
Listen, then click here to subscribe to these podcasts via iTunes!
Meanwhile, on the CBS NFL Sunday show, Shannon Sharpe — who did play the game and is therefore, I guess, permitted to speak on the subject — came down hard on the "locker room culture" of the Dolphins in allowing a white player to use the n-word towards black players…