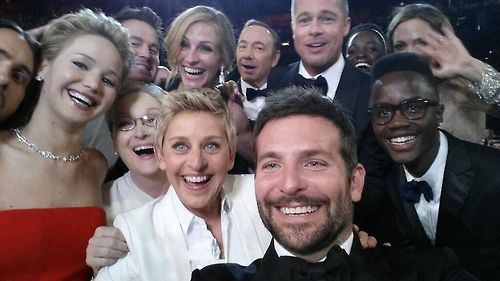 I don't understand the praise for Ellen DeGeneres as host of the Oscars last night. Taking selfies and buying pizza for the stars may be fine for her daytime show, but it does not count as actual content at an awards show. Somewhere, David Letterman was thinking, "She gets away with this and I got all that crap for Oprah-Uma?"
Seeing John Travolta mangle Idina Menzel's name last night, I wondered what he would have done if he'd had to introduce Lupita Nyong'o and Benedict Cumberbatch — not to mention Chiwetel Ejiofor. I bet he's never mispronounced Xenu.
Sign we're running low on celebrities: Zac Efron was a presenter at the Oscars. I guess Wilmer Valderrama was busy.
Saluting the "Wizard Of Oz" on its 75th anniversary seemed like a good idea, but why have Pink sing the movie's most iconic song instead of showing the original to us? Not that we don't know it — we know it all too well, which is why we didn't need a cover version. And wasn't there someone in Hollywood who could have stood at a podium and told us a little of the history of the movie? It could have been worse. They could have put Liza Minnelli on stage instead of in an aisle seat, where the only damage she could do was randomly hug passing Oscar winners.
And the Oscar for most bored presenter goes to Charlize Theron, who could not care less.
Goldie Hawn is doing a great job starring in "The Kim Novak Story," a cautionary tale about the dangers of plastic surgery.
I was shocked that "American Hustle" wasn't nominated for either Best Hair or Best Cleavage.
When Cate Blanchett thanked Woody Allen, you could hear the chill from many people in the room. Which will last until he starts casting his next movie and they all want a part.
It was nice not to see any winners played off by the orchestra, but there were a bunch of local TV news anchors who wondered whether they'd ever get on the air once Matthew McConaughey's speech entered its second hour.
Next year, how about letting Kevin Spacey host? The guy's funny, affable, does imitations, and would probably prepare some real material for that boring middle hour of the Oscars. Or what Ellen calls Pizza Time.