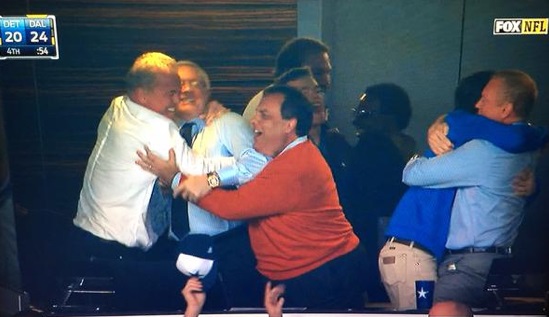 Chris Christie excitedly hugged Cowboys owner Jerry Jones towards the end of Dallas' victory over the Detroit Lions last night. I wonder how that image played in Michigan, a state that might be kinda important in the 2016 presidential race. And I wonder how Giants fans in New Jersey viewed their governor rooting for their arch-rivals.
I can't wait to see reports from the Consumer Electronics Show to know which supposedly amazing new life-changing devices I won't be buying this year.
I hate cold weather, but this Ice Festival in Harbin, China, looks really cool, if you'll pardon the pun.
If "Celebrity Apprentice" ever shows up on my DVR, you'll know that someone has hacked my account and recorded it remotely.
Why doesn't Netflix have its own app for those of us who want to manage our DVD queue? It has one for the instant-viewing queue, and while I know that's the company's money-maker, there are still plenty of customers paying monthly fees to get DVDs by mail — and there isn't even a good third-party app that helps add titles to that list.
Similarly, how can Southwest Airlines — whose smartphone app means never having to print another boarding pass because I can use its on-screen check-in image to get through security and onto the plane — not have an equivalent app for the iPad?
After the controversial and game-changing reversed call in the Cowboys-Lions game last night, how long before the NFL considers using instant replay for penalties?
Anyone who claims they can tell you today who the two presidential candidates will be in November, 2016, is either a liar or a fool.