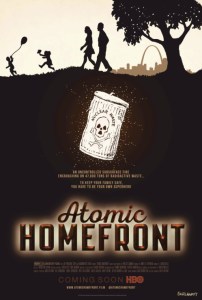 In 1942, during World War II, St. Louis was chosen (as part of the Manhattan Project) as the first place to process uranium for atomic bombs. Seven-and-a-half decades later, the radioactive waste leftover from that process is still underground in the suburb of Bridgeton and communities on contaminated Coldwater Creek. As if that weren't bad enough, there's been a fire burning for years under the West Lake Landfill that is creeping toward the nuclear waste.
Rebecca Cammisa's documentary "Atomic Homefront" follows the story of residents of those neighborhoods who have tried to get the EPA and the Army Corps Of Engineers to fix the problem. While those agencies do little to nothing, lots of people have died of cancers related to their exposure to the radioactivity.
This is my conversation with Cammisa about her movie, which will screen November 11th at the Tivoli Theatre as part of the St. Louis International Film Festival.
Listen, then click here to subscribe to these podcasts via iTunes!