Read part one, about our days in Rome at the beginning of this road trip, here.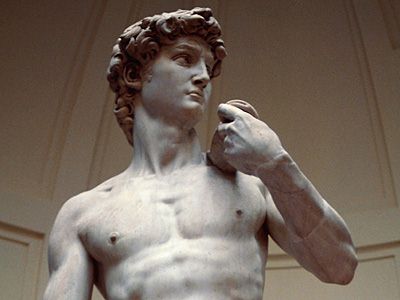 After several days in Italy's capital, we took a high-speed train to Florence to see some art and an old bridge. And eat a lot more.
The statue is Michelangelo's "David," which I've seen many pictures of, but to view it in person was overwhelming. David stands 17 feet tall, and is positioned in a perfect spot in the museum, Galleria dell'Accademia, to allow visitors to walk around and see him from every angle. I know nothing about art, but was awed by the attention to detail, showing every vein and muscle. How do he do that with marble — 500+ years ago? In another portion of the Accademia, we found a video that tells the history of the statue and the continuing efforts to restore this important work. Breathtaking.
The gallery also has an exhibition of musical instruments from the 16th century (Medici era), including a Stradivarius violin, cellos, double bass, a hurdy-gurdy, and a piano-guitar (with six ivory keys to "protect the delicate fingertips of the ladies"). Also on display: several brass instruments including a "serpent," a long twisted horn, and a clarinet with a bend in it. Several of the earliest pianos were on display, as well as a dulcimer made of three different types of marble.
We were glad that we had listened to our travel agent's advice and purchased tickets for the Accademia well ahead of time, allowing us to walk right past the queue that stretched around the building and down the block, where people had to wait more than two hours. Our wait was less than ten minutes to enter.
One of Florence's other main attractions is the Ponte Vecchio (translation: "old bridge"), which spans the Arno River and dates to Roman times. It is beautiful and always packed with pedestrians checking out the gold and silver jewelry shops that line each side — to the exclusion of anything else, so it held no attraction for me. So I walked slowly down the center while my wife stop to look at each little shop on both sides (fortunately, she didn't find anything to buy).
Observing the crowd, I noticed that all the other guys on the bridge were there with their significant other. There were no single, unattached, heterosexual men browsing the shops of the Ponte Vecchio. None. My only goal was to get to the other side, because I'd heard there was a bakery with terrific chocolate cannoli a half-block from the southern end of the bridge. I can now confirm that rumor as fact.
The other time we crossed the Ponte Vecchio was to get some wild boar. There's an animal you don't hear much about in the midwestern US.
When we took a tour of the countryside of Tuscany, our guide told us there were lots of wild boar free-ranging in the forests near Florence, eating chestnuts and pine cones, and that some local restaurants prepared various dishes with boar meat. We found one called Cinghiale Bianco (translation: "The White Wild Boar") and, for dinner, I had fresh pasta with a wild boar sauce — outstanding! The next night, we went to a restaurant in another part of Florence, where my wife had that dish while I had the equivalent of wild boar pork chops. Also delicious.
Our record for restaurants in Italy on this trip was pretty good. We had a few meals that were just average, but most of the dinners exceeded our expectations. The two things that surprised us were the water and mealtimes.
In an American restaurant, you can drink all the water you want for no charge. In Italy, you pay for every sip of every beverage, including water, whether it's carbonated or not. There's no water pitcher to refill your glass — you have to buy a bottle, and apparently there's no dominant brand of bottled water in Italy, because in ten days, we never saw the same brand twice. I wouldn't be surprised if the English translation of every bottle of water was "filled from the tap in the kitchen."
As for mealtime, like most Europeans, Italians eat dinner much later than Americans. Most restaurants don't even start serving dinner until 7:30pm (unless they cater mostly to tourists). We sat down in one restaurant at 8pm and, since we spent every minute of every day together on this vacation, and thus didn't have a lot of conversational catching-up to do, we were done with our dinner by 9pm.
That's when most of the other customers were arriving. And they weren't having the simple antipasto/entree/gelato that we were. No, they were loading up with course after course, complete with a different bottle of wine for each. My wife, who has a 9-to-5 job and needs a decent night's sleep, couldn't believe that all these people — everywhere we went in Italy — could stay out that late to eat and still get up and go to work in the morning.
In other words, our 8pm dinner was the equivalent of their early-bird special! Try going to an Italian restaurant in the US on a weeknight at 9pm to eat and carouse for a couple of hours. You'll be able to hear the staff's groans as daggers shoot from their eyes — but at least they'll bring you more free water!
Read part three of this road trip diary here.