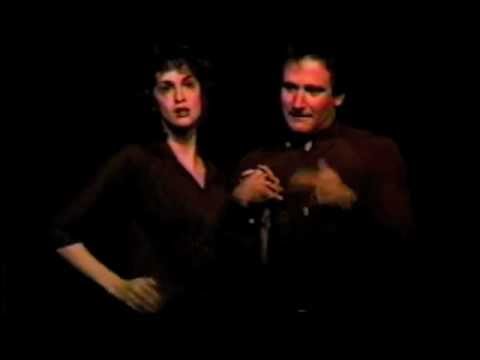 In response to the shocking news of his suicide, there are lots of people sharing Robin Williams stories tonight, remembering his movies, his TV work, or seeing him in concert.
My memories of him range from being amazed at his breakout HBO debut performance at the Met to his multiple improvisations with an audience member's scarf on "Inside The Actor's Studio" to his appearance on the penultimate Johnny Carson show to laughing from the front row of the Universal Amphitheater as Robin, Billy Crystal, and Whoopi Goldberg hosted the first Comic Relief event in 1986 (I wrote about that event here).
But one of my fondest memories of Williams came a few months before that. My wife and I were working in New York City, and had become fans of Chicago City Limits, an improv group that performed at the Jan Hus Theater at 1st Avenue and 74th Street. We went to see them several times, and on one occasion, just after intermission, a cast member announced that they had a special guest who wanted to play some improvisation games with them — and out walked Robin Williams.
It had been a few years since "Mork and Mindy," and his movie career was stuttering along. For every "World According To Garp" or "Moscow On The Hudson," there was a "Club Paradise" or "The Survivors," and we were still a few years away from his career blasting off when Barry Levinson gave him the showcase role as Adrian Cronauer in "Good Morning Vietnam."
Still, everyone in the room felt the jolt of electricity upon his entrance and knew we were in for something special. Here was one of the quickest minds in the history of comedy, and he was going to play with the talented members of this troupe (I can't remember all their names, but that's Carol Schindler with Williams in the photo above).
As you'd expect, he ran amok, but instead of turning it into The Robin Williams Show, he was very respectful of the other performers, setting them up for clever bits, supporting them wherever they took the scenes, taking off on tangents and then bringing it home, and clearly enjoying himself immensely (as were we). He wasn't there to plug anything, he just dropped by and gave a master class in making stuff up.
That second act was supposed to be about 45 minutes, but Williams and the cast stayed onstage and played for nearly 90 before the theater had to be cleared so the audience for the late show could be admitted. As we filed out, buzzing about what we'd just seen, those in the incoming queue looked disappointed that they'd missed out on something special.
A few months later, I took some improv classes at CCL, and asked a couple of cast members about that night. They told me that none of them had ever met Williams before, but when he'd called and said he was in town and would like to come over and join in, they couldn't resist — they were as excited as the audience at what transpired that evening.
Not many performers would have had that impact then, or now. Then again, Williams was unique in his skills. Few comedians — including his idol and mentor, Jonathan Winters — could be as outlandishly funny in some roles but turn around and play as dramatically straight as he did in "Awakenings" and "Good Will Hunting" (for which he won an Oscar).
I never again got to be in the same room as Williams, and was disappointed that he didn't choose better movies to make in the last decade and a half, but I'll always remember that spontaneously spectacular night he appeared at Chicago City Limits.