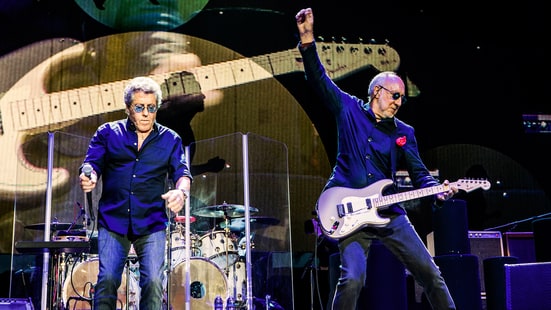 In 1965, Roger Daltrey sang, "Hope I die before I get old." Ironically, he's still singing it at 72 — but is rock and roll still alive? In a NY Times op-ed, Bill Flanagan says:
We have to face it — rock has grown old. Nothing brings out the indignation of a certain kind of rock 'n' roll fan like the suggestion that the music of Little Richard, Jimi Hendrix, Kurt Cobain and other iconoclasts has aged with its audience. It's like telling people they are someday going to die — it may be true, but no one wants to hear it, and anyway, why spoil the party?

Rock's core audience was born in the 1950s and '60s, and its life span has kept expanding. Sixty years after Elvis appeared on "The Ed Sullivan Show," rock concerts are raking in more money than ever.

At the Desert Trip festival in Indio, Calif., last month, about 150,000 tickets were sold for two weekends of shows featuring six legends of 1960s rock — Bob Dylan, the Rolling Stones, Neil Young, Paul McCartney, the Who and Roger Waters — in one place.

The headliners were born in the 1940s. The audience was all ages. There were wrinkled hippies and young families. There were college-age backpackers, white-haired fanny-packers and sleepy-eyed six-packers. Many of them had not been old enough to see the Beatles or go to Woodstock, but they were right on time to enjoy (depending on the price of their ticket) comfortable seats, wine vendors and chef-prepared cuisine, and plenty of decent restrooms. I was a long way from sleeping in the mud at Watkins Glen in 1973, waiting for the Band, the Grateful Dead and the Allman Brothers, and grateful for the improvement.

But growing record sales? Not so much. The record business has evaporated for everyone not named Adele. Top 40 radio, which has always been for teenagers, is mostly devoted to post-rock pop and hip-hop. In 2016, rock is not teenage music.
That helps explain why there aren't many rock radio stations anymore. In most cities, there are Oldies or Classic Hits or Classic Rock stations, but nowhere to turn to discover new rock and roll. In St. Louis, there are two — KSHE (which has been in the format for almost 50 years but plays a minuscule amount of new stuff) and KPNT (which leans alternative and does well with a younger demo). But look at the largest media market in the US — New York — and you won't find a single commercial FM station devoted to exposing its listeners to new rock and roll.
I worked in what-was-then-called Album Oriented Rock stations at various times in the 1970s, 1980s, and 1990s. We thrived on introducing listeners to new bands, while still giving them a steady base of Beatles, Rolling Stones, Led Zeppelin, and Pink Floyd. It was exciting to get requests for tunes we'd only just started to play, and to see those acts break out, whether they fizzled after an album or two or went on to long careers like U2. When one of our core artists — Springsteen, Fleetwood Mac, Van Halen, Tom Petty — released anything new, we pounded it and promoted it and played it to death. We'd even track through the whole thing at midnight as our Featured Album, thus allowing thousands of listeners with cassette recorders to make a copy for themselves.
While there are still rock bands creating new material, today's music fans are drawn in much larger numbers to hip-hop or modern Top 40 screechers. My daughter, who was brought up in a rock and roll household, isn't exposed to new music via the radio because she doesn't even own one. She hears about a song or a band from friends via word of mouth or social media, then downloads it from iTunes or YouTube. Others in her demographic spend more time with Spotify and Pandora than anything broadcast.
So yes, the average rock and roll fan has aged measurably — as we get older we still prefer the music we grew up with — because there's not enough compelling music to influence a new generation of fans and, ironically, fewer places for them to hear it.