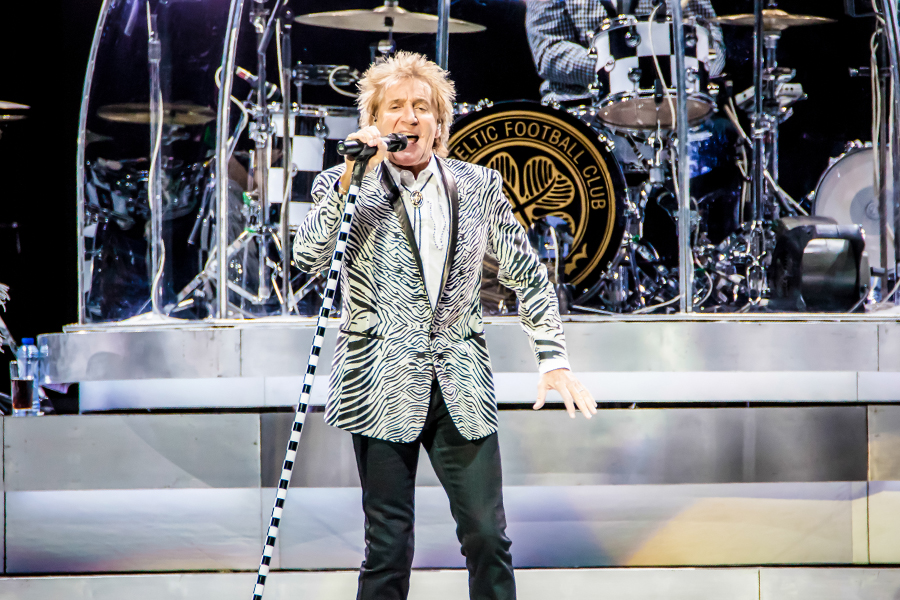 Rod Stewart has one of the great voices in rock history, with a songbook that includes dozens of tunes I played hundreds of times in my music radio days, but I'd never seen him in concert. While in Vegas with my daughter earlier this month, I got tickets to see him in the Colosseum at Caesars Palace, and we had a great time.
Stewart announced at the beginning of the evening he was only allowed to do 90 minutes because the casino wanted everyone out and back to the slot machines. Still, he packed plenty of classics into that time frame: "You Wear It Well," "The First Cut Is The Deepest," "Have I Told You Lately," "Forever Young," "Hot Legs," "Tonight's The Night," "Some Guys Have All The Luck."
He also did "Can't Stop Me Now," a 2013 song dedicated to his father, who supported Rod through his early years of rejection by an industry that hated his hair, his clothes, and his nose — complete with images from Rod's early years as a teenage rocker displayed on big screens behind him. He even did a tune that I haven't heard in a couple of decades by his early band Faces called "Ohh La La."
My daughter didn't know a lot of those songs, but she got right into the spirit of seeing a veteran performer put on a great show, and I even caught her singing along a couple of times. Throughout the show, Stewart was in good humor, joking with the audience, urging them to take photos (despite the pre-show warning not to), and remembering to play to those of us in the mezzanine and balcony, too.
At 71, Stewart is secure enough in his stardom to let everyone in his 9-piece band (including two women who played violins, banjo, guitar, and mandolin, and another woman who played harp and percussion) have solos, including an extended one by his sax player. The three backup singers even got to do a tune while Rod was offstage changing his shirt and jacket. When he returned for the encore ("Maggie May" and "Do Ya Think I'm Sexy") he kicked soccer balls into the audience as balloons fell from the ceiling.
His voice, which started out raspy in his teens, retains that unique Rod Stewart sound, and is still strong. The man knows how to entertain a crowd, and he gives them what he knows they want — the hits that have carried his career through five decades.