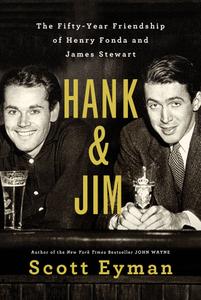 Henry Fonda and Jimmy Stewart were two of the best actors of the 20th century. Their movie credits include such classics as "Mr. Smith Goes To Washington," "It's A Wonderful Life," "Rear Window," "12 Angry Men," "Mister Roberts," "The Grapes of Wrath," "Fail Safe," and "Anatomy of a Murder."
Scott Eyman (who has done books on John Wayne, John Ford, Cecil B. DeMille, and Louis B. Mayer) has written a dual biography of the two stars, "Hank and Jim: The Fifty-Year Friendship of Henry Fonda and Jimmy Stewart." In my conversation with him, we touched on:

Whether either of them had any acting lessons;
How Stewart insisted the studio not use his World War II experiences in publicity materials;
Why Stewart could relate so well to George Bailey in "It's A Wonderful Life";
How the only movie Fonda produced was "12 Angry Men";
Why no one who made "Mister Roberts" liked the movie, including Fonda;
Whether Stewart had an affair with Marlene Dietrich while making "Destry Rides Again";
How these two political opposites kept up a lifelong friendship.
Listen, then click here to subscribe to these podcasts via iTunes!