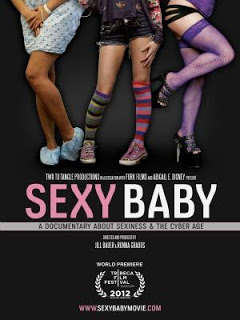 On KTRS/St. Louis today, I talked with Jill Bauer and Ronna Gradus, director of "Sexy Baby," an intriguing documentary about coming of age in the digital era, sexting, the prevalence of pornography, and the impact on girls and women — in particular 12-year-old Winnifred, 22-year-old Laura, and 32-year old Nichole.
Winnifred is the most fascinating of the three. As she becomes a teenager, she's fully aware of the sexual content available online but insists she never looks at it. At the same time, we see her and a friend singing pop and rap songs with raunchy lyrics and videos without giving them a second thought, and dressing up in barely-appropriate clothing to attend a Lady Gaga concert. She considers her generation "the pioneers" in dealing with the proliferation of porn.
Laura is an assistant teacher who wants to look like a porn star, because her last boyfriend watched lots of porn and that's what she thinks guys want. "Sexy Baby" shows her going to a plastic surgeon for a labiaplasty in which her genitals will be surgically altered to make them "more appealing."
Nichole and her husband are former porn stars (she was known as Nakita Cash) who have been deeply involved in that life for years and remain connected to it by booking adult movie stars to perform in strip clubs — she even performed a pole dance routine on "America's Got Talent." She is open about her exhibitionism, why porn sex is not love-making, and why she's done what she's done.
Listen, then click here to subscribe to these podcasts via iTunes!
Or you can watch the interview here, including some scenes from the movie…