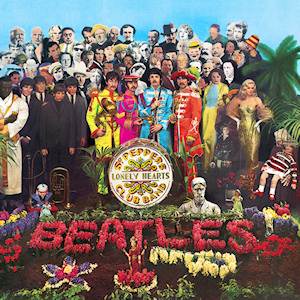 Today marks the 50th anniversary of the release of the Beatles' "Sgt. Pepper's Lonely Hearts Club Band" (it came out in the US a week later), so I invited Slate pop critic Jack Hamilton to join me in discussing that landmark album. I asked him:

Why do you say it "was a musical masterpiece that doubled as a masterpiece of timing"?
Why didn't "Sgt. Pepper" include two songs that were recorded during the same sessions?
How did "Sgt. Pepper" influence other artists like Pink Floyd, Stevie Wonder and Otis Redding?
Does the re-release, including a re-mix by George Martin's song Giles, really sound that different?
If it's a concept album, why doesn't it maintain Paul McCartney's original concept throughout?
Could The Beatles have made "Sgt. Pepper" without drugs?
Listen, then click here to subscribe to these podcasts via iTunes!