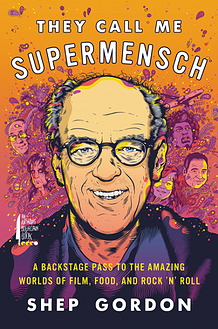 What do Alice Cooper, Groucho Marx, Raquel Welch, Blondie, The Pointer Sisters, and Kenny Loggins have in common? They were all managed by Shep Gordon, who has led an amazing life, which was the subject of a 2013 documentary by Mike Myers called "Supermensch" (I reviewed it here). Now Gordon is telling more of his life story in an autobiography, "They Call Me Supermensch." I enjoyed reading it, so I invited him to come on my show to discuss:
Working with two of my heroes, Groucho Marx and The Amazing Randi;
Why he didn't think Alice Cooper's music was strong or distinctive enough in the early days;
Getting Teddy Pendergrass to make the first appearance after his car accident at Live Aid in 1985;
What it's like to play poker with Willie Nelson;
How he changed Robert Palmer's career for the MTV era;
How he created the concept of the "celebrity chef";
Whether, because he only had handshake deals with his clients, he was ever screwed by an artist.