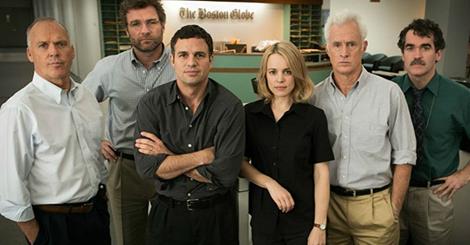 This week on the showbiz segment of my show, I talked about one of the best movies of the year, "Spotlight," with Michael Keaton, Liev Schreiber, Mark Ruffalo, Rachel McAdams, John Slattery, and Bryan d'Arcy James as the Boston Globe reporters who uncovered the pedophile priests scandal in that town in 2001. I asked Lynn Venhaus (movie reviewer for the Belleville News Democrat) to join me because she wrote stories about the molesters in the Belleville archdiocese when she worked for the Centralia Sentinel in 1993. She offered a unique perspective on how well the movie shows investigative reporters doing their job under tremendous pressure.
Then, Colin Jeffrey joined me to review the movie that will crush the box office this weekend, Jennifer Lawrence in "Hunger Games: Mockingjay, Part 2." Finally, I talked about "Trumbo," with Bryan Cranston as a Hollywood screenwriting legend who was blacklisted for refusing to cooperate with the House Un-American Activities Committee in 1947.
Listen, then click here to subscribe to these podcasts via iTunes!