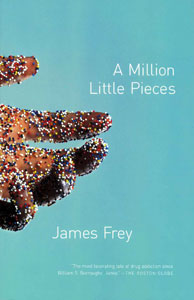 The Smoking Gun says James Frey lied when he said his bestseller "A Million Little Pieces" was nonfiction. This is going to upset quite a few people who read the book and believed it, such as my wife.
I talked to TSG's Andrew Goldberg about what they've uncovered about the book, which has been #1 for over three months, sold over 3.5 million copies, and was chosen by Oprah for her book club. He not only explained what the investigation revealed, but also the response from Frey and his publisher.
Listen, then click here to subscribe to these podcasts via iTunes!