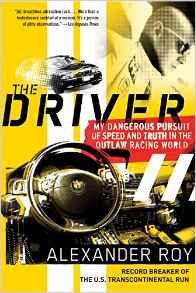 Speeding is certainly the most-broken law in this country. There are plenty of people who love putting the pedal to the metal and wish we had an American Autobahn with no speed limit. Many of them dream of being in a real-life Cannonball Run, racing across the country while eluding police.
Alex Roy has done it. In fact, if you were on I-44 in St. Louis on the morning of October 8, 2006, you might have seen him whiz by you at over 100mph. At that point, he was in the middle of an attempt to set a new record for driving across America from New York to Santa Monica. When he got to the finish line, he had done it — in 31 hours, 4 minutes.
This afternoon on my show, Roy went into great detail about how he accomplished the feat, what equipment he had in his BMW M5, whether he ran into trouble with any cops, and how often he had to stop for gas. We also talked about his participation in road races like the Gumball Rally, and the original Cannonball Runs.
Listen, then click here to subscribe to these podcasts via iTunes!
Roy writes more about his exploits in "The Driver: My Dangerous Pursuit Of Speed And Truth In The Outlaw Racing World."