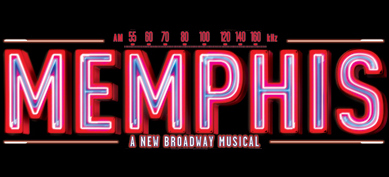 While in New York last weekend, I took my wife, daughter, and mother to see "Memphis," the musical that won the Tony Award last year. It's based on the story of Dewey Phillips, a disc jockey who was one of the first to play black rhythm & blues/rock & roll music on a white radio station.
In the show, the character's name is Huey Calhoun, a fast-talking white guy with an ear for the change coming in popular music and the ability to talk people into all sorts of things. One night, he wanders into a blacks-only nightclub and sees Felicia Farrell singing. He falls for her, a risky proposition in 1950s Tennessee (as was appealing to white teenagers with "race music"), and their relationship sparks much of what follows.
Huey is a demanding role that won Chad Kimball the 2010 Tony for lead actor. But when we got to the Shubert Theatre, there was a notice announcing that the role would be played by Bryan Fenkart, the understudy. That can be disappointing if you've bought your ticket expecting to see a particular performer, someone who so indelibly puts their personal stamp on a show that their absence would completely change the experience (e.g. Bernadette Peters, Matthew Broderick, Glenn Close, or the late Gregory Hines).
Sidenote: as we passed a poster for "The Addams Family" musical, I noted that the always-bankable Nathan Lane and Bebe Neuwirth have left the show and been replaced by Roger Rees and Brooke Shields. Talk about having to lower your expectations, particularly when Morticia has to sing.
In the case of "Memphis," we didn't know who any of the actors would be — we were there for the show itself — so our expectations weren't affected. As it turned out, Fenkart was terrific, an electric performer who delivered for every minute he was onstage (which is virtually the entire show). I've learned since that he's done the role a few dozen times, so the cast and crew were familiar with his version of Huey, making the substitution seamless.
The rest of the cast was damned good, too, particularly Montego Glover (a 2010 Tony nominee), a small woman with a huge voice and range, who plays Felicia. Throw in some very clever set design, direction, and audio/visuals — particularly when Huey starts hosting an afternoon TV dance show — and, all in all, you got yourself a fun time at the theater.
My only complaint was about the seats at the Shubert, a theater that was built in 1913, when Americans were a lot smaller. I'm not just talking about girth, but height, too. Theater-goers of that era must have been about five feet tall. I'm 6'4″, so you can imagine how incredibly cramped I felt. There was no leg room at all — I couldn't sit facing forward, even with my knees so far apart they needed Google maps to find each other. I was forced to turn and put both legs out into the aisle, a position that didn't come close to qualifying as comfortable, but had to do if I was going to stay for the show. Fortunately, "Memphis" was enjoyable enough to take my mind off the contortionist act I was doing in my seat.
Still, as the cast launched into their show-closing number, I was ready to give them a standing ovation. It was the only way I could get the blood flowing to my legs again.
Link: here's an interesting interview with Bryan Fenkart, in which he explains what it's been like to understudy into the lead role in "Memphis," including the first night he got the call to step in as the star on Broadway.