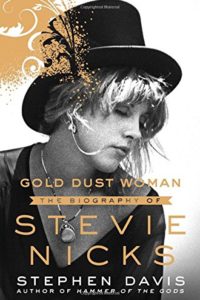 Stephen Davis has written books about Jim Morrison, Bob Marley, Miles Davis, and other musicians. Now he has a best-selling biography of Stevie Nicks, "Gold Dust Woman." In my conversation with him, we talked about:
How the version of "Rhiannon" we all know isn't the same one Fleetwood Mac recorded;
The huge fan base of women who dress like her;
How Fleetwood Mac wasn't doing well before she and Lindsay Buckingham joined;
Whether they took her just to get him;
Whether it's true that she wears fringe and scarves because of Jimi Hendrix;
How her song "Gold Dust Woman" is about a drug addict, and how much were drugs part of her life;
Stevie's personal and professional relationship with one of the most important producers and executives in rock history;
Whether it's true Stevie was asked to do a new Fleetwood Mac album, but refused because she thought no one would buy it.
Listen, then click here to subscribe to these podcasts via iTunes!
Previously on Harris Online…