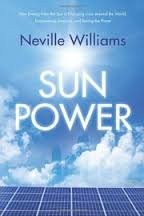 Solar energy may be poised to take off, now that prices have dropped considerably, making the technology more competitive with non-renewable sources like oil and gas. So says my America Weekend guest Neville Williams, author of "Sun Power."
In our conversation, he explained how utility companies and fossil fuel billionaires (like the Koch Brothers) are trying to crush the solar competition, and how some state legislatures are doing their bidding by imposing taxes on people who install solar panels on their homes. Still solar energy is gaining market share in the US, although we're still way behind the rest of the world — including China.
Listen, then click here to subscribe to these podcasts via iTunes!