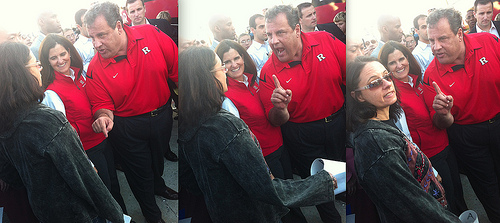 Melissa Nathanson is a teacher in New Jersey who went to a Chris Christie event recently and asked a question about education funding. The governor lashed out at her as if she were the problem. After he stormed off to his bus, she went home and wrote an open letter to him. Here's an excerpt:

You have portrayed us as greedy, lazy money-draining public servants that do nothing. I invite you to come do my job for one week Governor Christie. I invite you to come see my students, see how little they really have during the school day as they are being forced to keep learning for a single snapshot of their educational worth. For that one end-all, be-all test, the NJASK. The one that the future of my job and my life is now based upon.

Why do you portray schools as failure factories? What benefit do you reap from this? Have you acquired financial promises for your future campaigns as you eye the presidential nomination? Has there been back-room meetings as you agree to divert public funds to private companies that are seeking to take over our public educational system? This is my theory. To accomplish all of this, you are setting up the teachers to take the blame. Unfortunately, you are not the only governor in our country that has this agenda.

What do "we people' want, Governor Christie? We want our schools back. We want to teach. We want to be allowed to help these children to grow, educationally, socially, and emotionally. We want to be respected as we do this, not bullied.