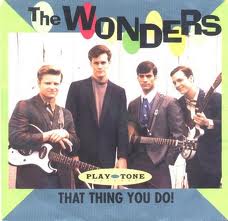 The reviews for "Larry Crowne" have been uniformly terrible, despite starring Tom Hanks and Julia Roberts. Here's a substitute suggestion, the other movie written and directed by Hanks some 15 years ago: "That Thing You Do," which has long been on my
Movies You Might Not Know
list (spoiler alert: Roberts isn't in it).
It's the story of four guys from Erie, Pennsylvania, who form a band in the mid-1960s and strike it big with a one-hit wonder song. Their adventure takes them from small-time gigs in their hometown to state fairs to Hollywood, where they get a shot on a primetime TV show and in a Frankie-and-Annette-type beach movie.
Hanks has a small part as the record company exec who guides their way, but the movie belongs to Tom Everett Scott, Steve Zahn, Jonathan Schaech, Ethan Embry, and Liv Tyler as the tag-a-long girlfriend of the lead singer/songwriter (plus short appearances by Charlize Theron in one of her first movies, Rita Wilson, Obba Babatunde, Kevin Pollak, Giovanni Ribisi, Alex Rocco, Bill Cobbs, and Peter Scolari).
In writing and directing and composing the songs, Hanks did a terrific job capturing the era, the attitudes, and the rising appeal of rock and roll in the months after the Beatles changed everything.
Here's a scene in which the band's song is played on radio for the first time, and the characters' delighted reaction. It's a scenario that has been played out in real life thousands of times by bands everywhere — in fact, I once asked Ray Manzarek about the first time he heard a Doors song on the radio ("Light My Fire") and he said they reacted just like this…